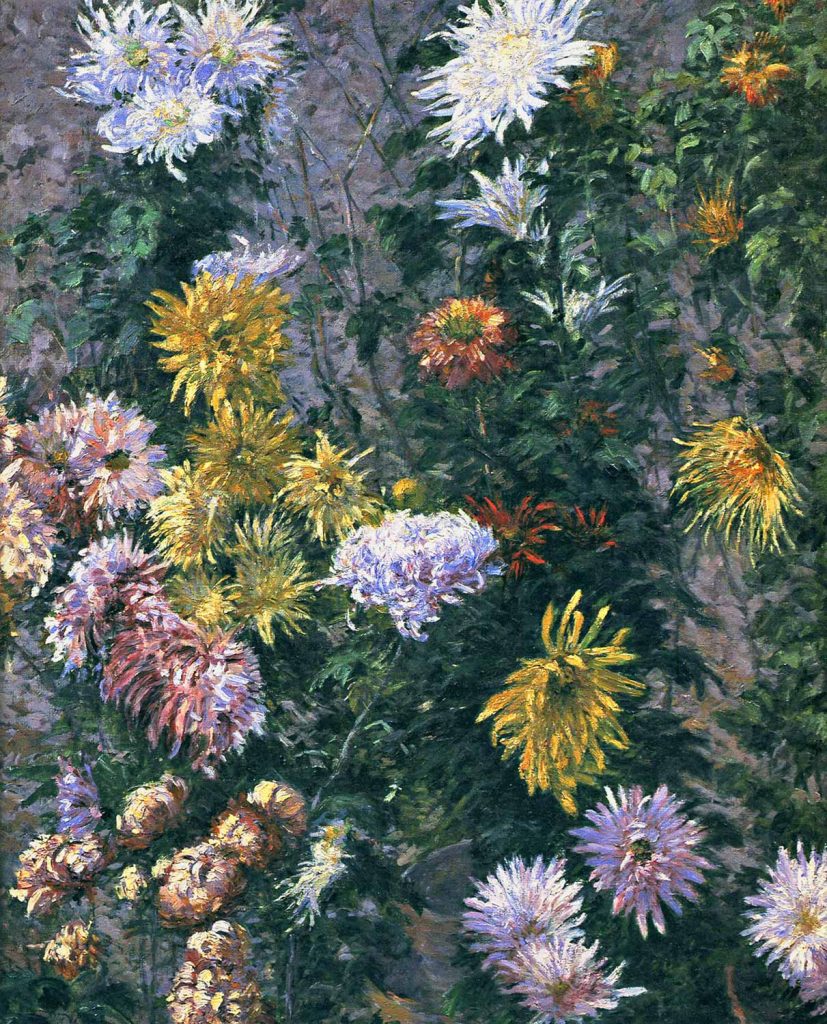 White and Yellow Chrysanthemums by Gustave Caillebotte was created in 1893. The painting is in Musee Marmottan Monet, Paris. The size of the work is 73 x 62 cm and is made as an oil on canvas.
The pictorial production of Caillebotte evolves between Paris, the edges of the water and the countryside. From 1886, the artist paints less and exhibits almost no more. He found the banks of the Seine opposite Argenteuil and lived most of the time in Petit Gennevilliers, in a property acquired with his brother Martial a few years earlier. He finds in this residence the means to devote himself to his passions: canoeing and gardening.
The correspondence he then exchanged with Monet and the writer Octave Mirbeau mainly evokes horticulture, and his paintings are now inspired almost exclusively by his garden and the flowers he grows there. Organized according to a geometric scheme, this garden presents abundant flower beds that Monet painted with ardor, in compositions similar to those of Japanese prints.
This is the case with this decorative panel where chrysanthemums freely invade the space in a shimmer of colors. In 1894, Martial, the artist's brother, offered Monet this canvas in memory of the recently deceased painter. In 1897, the master of Giverny composed several panels of chrysanthemums considered by critics as a tribute to Caillebotte.
About the Artist: French painter Gustave Caillebotte was born in the rue du Faubourg-Saint-Denis. Caillebotte earned a law degree in 1868 and a license to practice law in 1870, and he also was an engineer. After the Franco-Prussian war, Caillebotte began visiting the studio of painter Léon Bonnat. In 1873, Caillebotte entered the École des Beaux-Arts, but apparently did not spend much time there. was a member and patron of the Impressionists, although he painted in a more realistic manner than many others in the group… Read more
---
You can order this work as an art print on canvas from canvastar.com

---