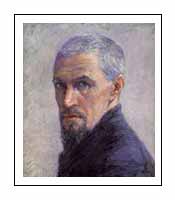 Gustave Caillebotte (1848 – 1894)
French painter Gustave Caillebotte was born in the rue du Faubourg-Saint-Denis. Caillebotte earned a law degree in 1868 and a license to practice law in 1870, and he also was an engineer. After the Franco-Prussian war, Caillebotte began visiting the studio of painter Léon Bonnat. In 1873, Caillebotte entered the École des Beaux-Arts, but apparently did not spend much time there. was a member and patron of the Impressionists, although he painted in a more realistic manner than many others in the group.
The tilted ground common to these paintings is characteristic of Caillebotte's work, which may have been strongly influenced by Japanese prints. At times, he seems very much in the Degas camp of rich-colored realism (especially his interior scenes); at other times, he shares the Impressionist commitment to "optical truth" and employs an impressionistic pastel-softness and loose brush strokes most similar to Renoir and Pissarro, although with a less vibrant palette.
Caillebotte painted many domestic and familial scenes, interiors, and portraits. The still life paintings focus primarily on food, some at table ready to be eaten and some ready to be purchased, as in a series of paintings he made of meat at a butcher shop.
In 1881, Caillebotte acquired a property at Petit-Gennevilliers, on the banks of the Seine near Argenteuil, and he moved there permanently in 1888. Caillebotte's painting career slowed dramatically in the early 1890s when he stopped working on large canvases. Caillebotte died of pulmonary congestion while working in his garden at Petit-Gennevilliers in 1894 at age 45.
---
---
References;
---