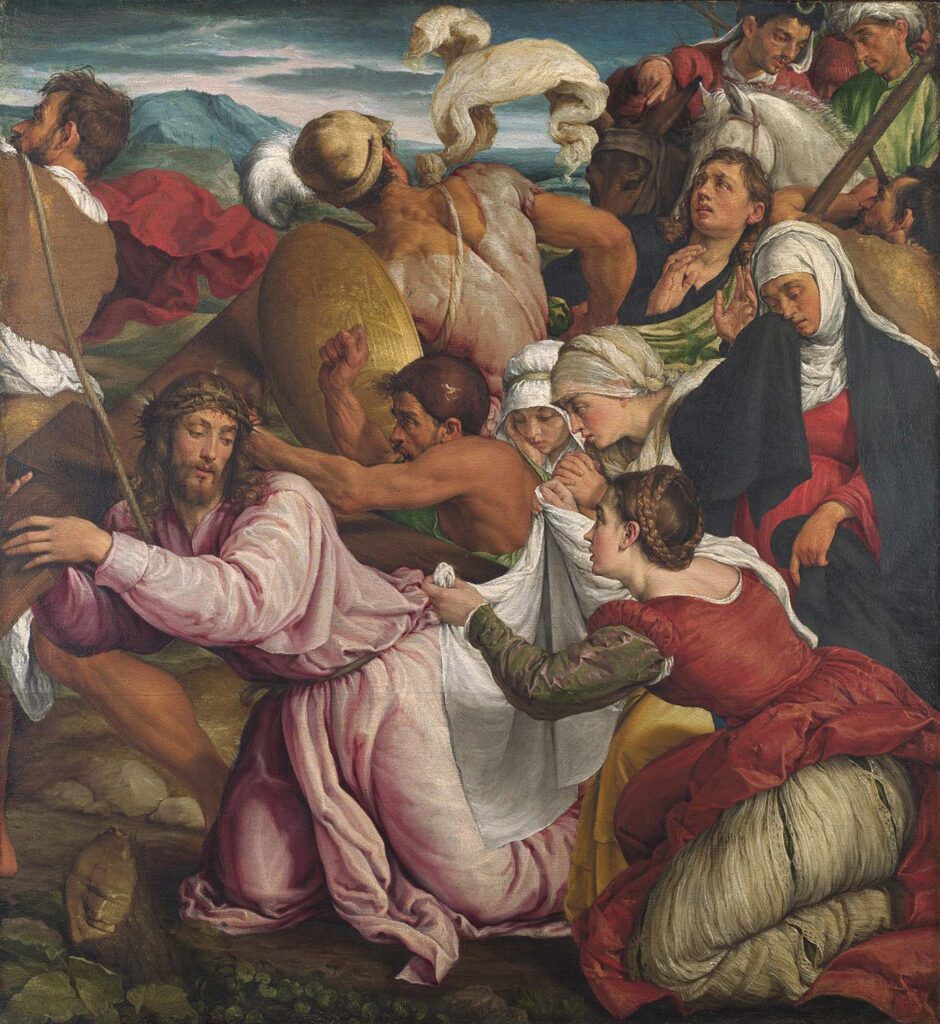 The Way to Calvary by Jacopo Bassano was created in 1540. The painting is in National Gallery London. The size of the work is 145,3 x 132,5 cm and is made of oil on canvas.
While carrying his cross, Christ stumbles and falls. One of Christ's executioners raises a fist to strike him and another pulls him by a rope around his waist. In the distance is Calvary, the barren hill with two crosses where Christ will be crucified. The Virgin follows her son and wipes her tear-soaked cheek. Saint Veronica holds out her veil to Christ, on which the image of his face will become miraculously imprinted. Read more in National Gallery London.
About the Artist: Jacopo Bassano was an Italian painter. He was born around 1510 in the town of Bassano del Grappa. Trained in the workshop of his father, Francesco the Elder, and studying under Bonifazio Veronese in Venice, he painted mostly religious paintings including landscape and genre scenes.
Jacopo Bassano was considered unique amongst his fellow Renaissance artists by his ability to incorporate diverse artistic influences into his work despite his reluctance to leave the comfort of his home town. Bonifazio de Pitati imparted upon his young pupil a lasting appreciation of Titian's work, the influence of which is clearly seen in his early pieces. Bassano's earliest paintings exhibit his lifelong obsession with brilliant colours that he had seen in Titian's beginning works, particularly in Bassano's Supper at Emmaus (1538). Read more….
---
Order a reproduction of this work (printed on canvas)
---