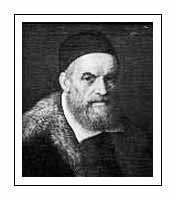 Jacopo Bassano (1510 – 1592)
Jacopo Bassano was an Italian painter. He was born around 1510 in the town of Bassano del Grappa. Trained in the workshop of his father, Francesco the Elder, and studying under Bonifazio Veronese in Venice, he painted mostly religious paintings including landscape and genre scenes.
Jacopo Bassano was considered unique amongst his fellow Renaissance artists by his ability to incorporate diverse artistic influences into his work despite his reluctance to leave the comfort of his home town. Bonifazio de Pitati imparted upon his young pupil a lasting appreciation of Titian's work, the influence of which is clearly seen in his early pieces. Bassano's earliest paintings exhibit his lifelong obsession with brilliant colours that he had seen in Titian's beginning works, particularly in Bassano's Supper at Emmaus (1538).
Bassano's piece, The Last Supper (1542), shows his new interest in Mannerism in Italian art. Within the piece he expressed influences related to contemporary prints of Dürer and paintings of Raphael. This is especially expressed in the highly charged emotions of the subjects and the dynamic and highly stylized posture of the figures.
Bassano started experimenting with light and his subjects around the 1550s–1570s. It was during this period that he was one of the first artists to paint a "nocturne", or a painting in a nighttime landscape with artificial lighting. This type of painting was extremely popular with local audiences and made Bassano paintings highly valued.
---
---
References
---