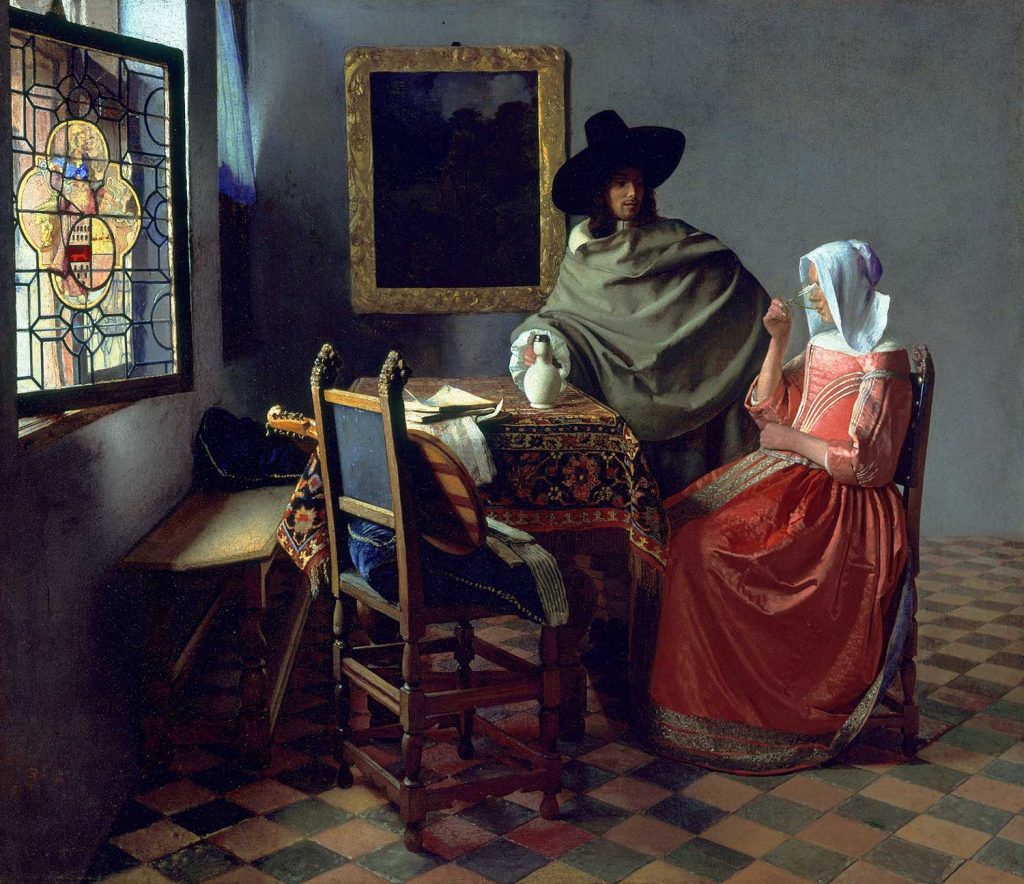 The Glass of Wine by Johannes Vermeer was created in 1658 – 1660. The painting is in Gemäldegalerie Berlin. The size of the work is 67,7 x 79,6 cm and is made as an oil on canvas.
A young woman sits at a table and drinks wine in the reflection of cool daylight, which mainly comes through the front of the two windows from the left. She has turned the glass towards her face until it is full, as if she wanted to evade the expectant gaze of the elegant cavalier, who, with the wine jug in hand but without a glass of his own, is ready to be refilled. An amorous relationship of dubious character is in the offing. Nevertheless, there is nothing coarse, nothing superficially erotic about the process.
A cittern and sheet music have been set aside on the chair and table, possibly a reference to the couple making music together. Vermeer here transformed a common theme of Dutch genre painters. He was possibly inspired by his fellow painter Gerard ter Borch, who also painted the motif of a cavalier, hand on a bottle, watching a lady drink. However, while the gentleman in ter Borch's painting puts his arm around his lady's shoulders, Vermeer provides no explicit indication of the nature of his couple's relationship. Whether the consumption of alcohol will end in debauchery remains uncertain.
About the Artist: Dutch Baroque Period painter Johannes Vermeer specialized in domestic interior scenes of middle-class life. It is unclear where and with whom Vermeer apprenticed as a painter. There is some speculation that Carel Fabritius may have been his teacher. On 29 December 1653, Vermeer became a member of the Guild of Saint Luke, a trade association for painters. The guild's records make clear that Vermeer did not pay the usual admission fee. It was a year of plague, war, and economic crisis; Vermeer was not alone in experiencing difficult financial circumstances… Read more
---
You can order this work as an art print on canvas from canvastar.com

---