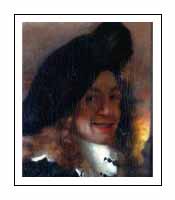 Johannes Vermeer (1632 – 1675)
Dutch Baroque Period painter Johannes Vermeer specialized in domestic interior scenes of middle-class life. It is unclear where and with whom Vermeer apprenticed as a painter. There is some speculation that Carel Fabritius may have been his teacher. On 29 December 1653, Vermeer became a member of the Guild of Saint Luke, a trade association for painters. The guild's records make clear that Vermeer did not pay the usual admission fee. It was a year of plague, war, and economic crisis; Vermeer was not alone in experiencing difficult financial circumstances.
During the Third Anglo-Dutch War, an English fleet and two allied German bishops attacked the country from the east, causing more destruction. Many people panicked; courts, theaters, shops and schools were closed. Five years passed before circumstances improved. In 1674, Vermeer was listed as a member of the civic guards. On 15 December 1675, Vermeer died after a short illness aged 43. He was buried in the Protestant Old Church on 15 December 1675.
Vermeer may have first executed his paintings tonally like most painters of his time, using either monochrome shades of grey ("grisaille") or a limited palette of browns and greys ("dead coloring"), over which he would apply more saturated colors (reds, yellows and blues) in the form of transparent glazes. No drawings have been positively attributed to Vermeer, and his paintings offer few clues to preparatory methods. In Vermeer's oeuvre, only about 20 pigments have been detected. Of these 20 pigments, seven principal pigments which Vermeer commonly employed include lead white, yellow ochre, vermilion, madder lake, green earth, raw umber, and ivory or bone black.
---
---
References;
---