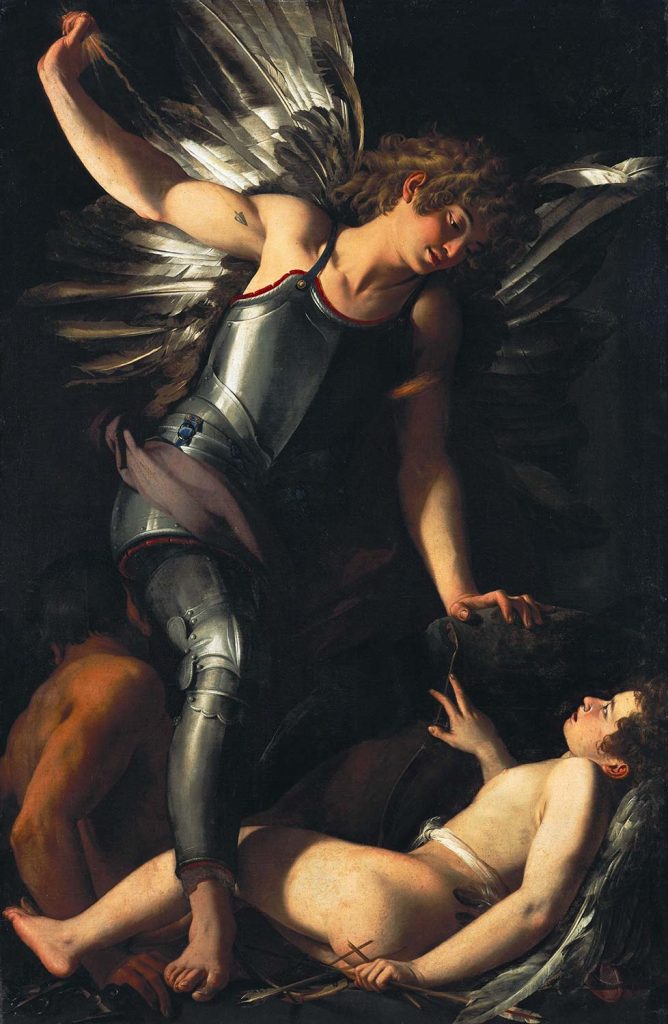 The Divine Eros Defeats the Earthly Eros by Giovanni Baglione was created in 1601 – 1602. The painting is in Gemäldegalerie, Berlin. The size of the work is 183,2 x 121,4 cm and is made as an oil on canvas.
Painted for Cardinal Benedetto Giustiniani, Baglione's Cupid was a response to the Cupid Caravaggio had previously created for Marchese Vincenzo Giustiniani, the Cardinal's brother. Caravaggio had raised a handsome, provocative naked boy as the youthful god of earthly love to the victor over the liberal arts, power and glory. In addition, he gave him the features of a boy who also posed for religious figures. In doing so, he challenged the moral values ​​of his contemporaries.
Baglione has earthly love thrown to the ground by armored heavenly Cupid. A demon with faun's ears and a trident sits on the lower left. Antiquity already knew the competition between Eros and Anteros for the human soul. If both are reconciled, perfect love is achieved. In contrast, Baglione's picture, according to the official church teaching of his time, aims at the submission of earthly love. The heavenly cupid strikes the final blow with a dynamic reminiscent of St. Michael in the Fall of the Angels.
About the Artist: Italian Late Mannerist and Early Baroque painter Giovanni Baglione was born in Rome. A pupil of the obscure Florentine artist working in Rome, Francesco Morelli, he worked mainly in Rome, initially with a late-Mannerist style influenced by Giuseppe Cesari. He spent 1621 – 1622 in Mantua as the court artist of Duke Ferdinando Gonzaga, where the exposure to the fabulous Gonzaga collection of Venetian paintings influenced his style… Read more
---
You can order this work as an art print on canvas from canvastar.com

---