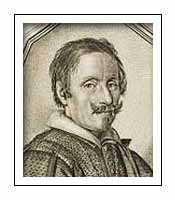 Giovanni Baglione (1566 – 1643)
Italian Late Mannerist and Early Baroque painter Giovanni Baglione was born in Rome. A pupil of the obscure Florentine artist working in Rome, Francesco Morelli, he worked mainly in Rome, initially with a late-Mannerist style influenced by Giuseppe Cesari.
He spent 1621 – 1622 in Mantua as the court artist of Duke Ferdinando Gonzaga, where the exposure to the fabulous Gonzaga collection of Venetian paintings influenced his style. Otherwise he remained in Rome, where he was long successful in attracting commissions from the Papal court and aristocracy. He had a successful career, receiving a Papal knighthood in the Supreme Order of Christ in 1606, and his long involvement with Rome's Accademia di San Luca and his biographies reveal "an artist obsessed with status". He was a member of the Accademia from 1593 until his death, and three times President.
He was mainly a painter of religious subjects, reflecting the Roman market, but also painted several mythological subjects, including an "astonishing" Venus whipped by Love (1620s) with an unusually suggestive pose, accentuated by strong chiaroscuro, for the plump goddess, who is viewed foreshortened from behind as she lies on a bed.
---
---
References;
---