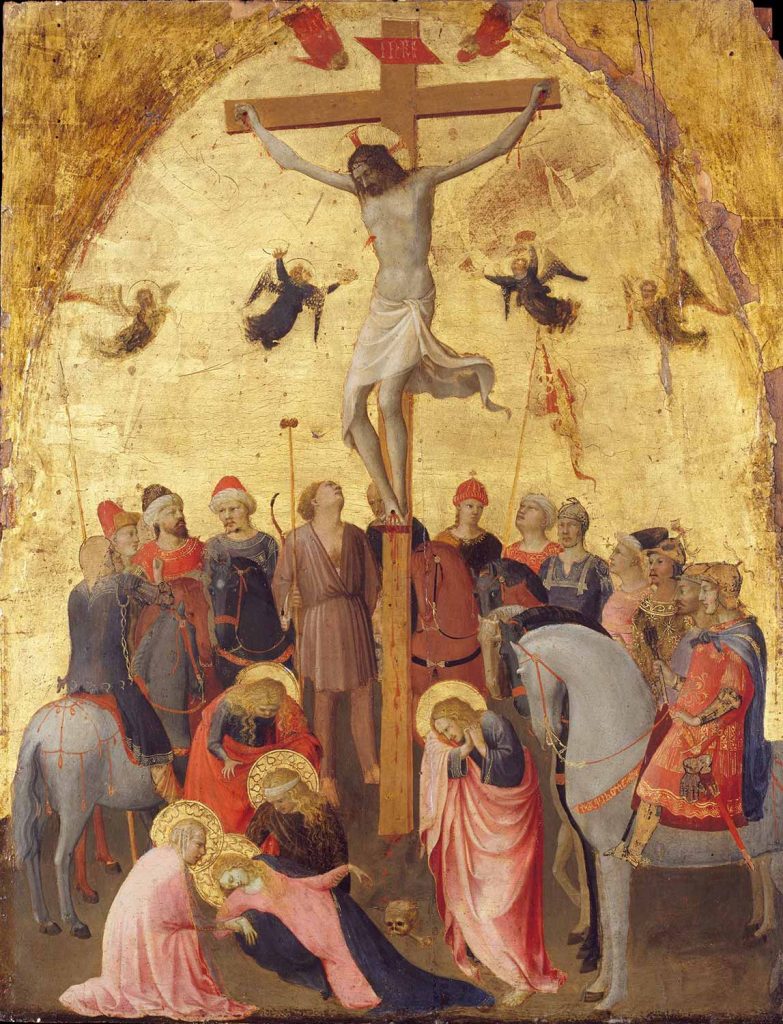 The Crucifixion by Fra Angelico was created in 1420 – 1423. The painting is in Metropolitan Museum of Art New York. The size of the work is 63.8 x 48.3 cm and is made as an tempera on panel.
This early work by Fra Angelico accentuates the drama of the Crucifixion by showing the Virgin collapsed in grief with the lamenting Maries and emphasizing the varied attitudes of the Roman soldiers and their horses. There is an exquisite delicacy about this work that Fra Angelico will develop in his mature paintings. The innovative circular composition was inspired by the bronze doors created by Lorenzo Ghiberti for the Baptistry of Florence.
Several of the soldiers are on horseback, styled in the flat perspective used by many artists during this period. The Roman's outfits are detailed, bright and impressive though their expressions are fairly neutral. Several angels fly around the body of Christ in the sky, with the rest of the background of this painting being particularly plain.
The Artist: Italian Renaissance painter Fra Angelico is estimated to have been born in Rupecanina around 1387. His real name is Guido di Pietro da Mugello. The name Fra Angelico was given to him by a Dominican god. The Dominican Church and Santo Domenico de Fiesole's frescoes. Later he and his brother Beneditto painted books. Because of the trick he showed II. It was declared saint by John Paul. He performed religious scenes in his frescoes.
---
You can order this work as an art print on canvas from canvastar.com

---
References;
Metropolitan Museum