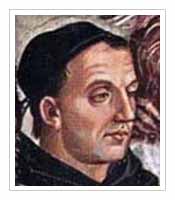 Fra Angelico (1387 – 1455)
Italian Renaissance painter Fra Angelico is estimated to have been born in Rupecanina around 1387. His real name is Guido di Pietro da Mugello. The name Fra Angelico was given to him by a Dominican god. The Dominican Church and Santo Domenico de Fiesole's frescoes. Later he and his brother Beneditto painted books.
Because of the trick he showed II. It was declared saint by John Paul. He performed religious scenes in his frescoes. The lives of the saints, the miracles of Jesus, Mary and child Jesus, the birth of Jesus, using scenery perspective, a circular composition. Worked with Massacio and Giorgio Vasari in the same workshop. He adopted Massacio's naturalistic and storytelling style.
Between 1425 and 1447, Fra Angelico carried out his activity for the Dominican convents and other ecclesiastical institutes at Fiesole, Florence (most especially at the convent of San Marco), Cortona and Orvieto. The fame of his genius merited him the esteem of the Sovereign Pontiffs Eugenio IV and Nicolas V, who contracted him for the task of frescoing several rooms in the Vatican Palace (1445-49).
Masterpiece
A masterpiece of panel painting created at the same time as the San Marco project was the Deposition altarpiece, requested by the Strozzi family for the Church of Sta Trinita. The richly colored and shining figures, the wide views of the Tuscan landscape serving as a backdrop to Calvary, and the division into sacred and nonreligious people reveal Fra Angelico as an artist in tune with the ideas and methods of the Renaissance. Yet all of the accomplishments in representation do not lessen the air of religious happiness.
In 1443 he and his students made five frescoes at the San Marco Monastery, the new monastery of Florence. Later on, the artist, who went to Rome on the call of the Pope, painted for the Pope for a while. He died in the same city.
---
---
---