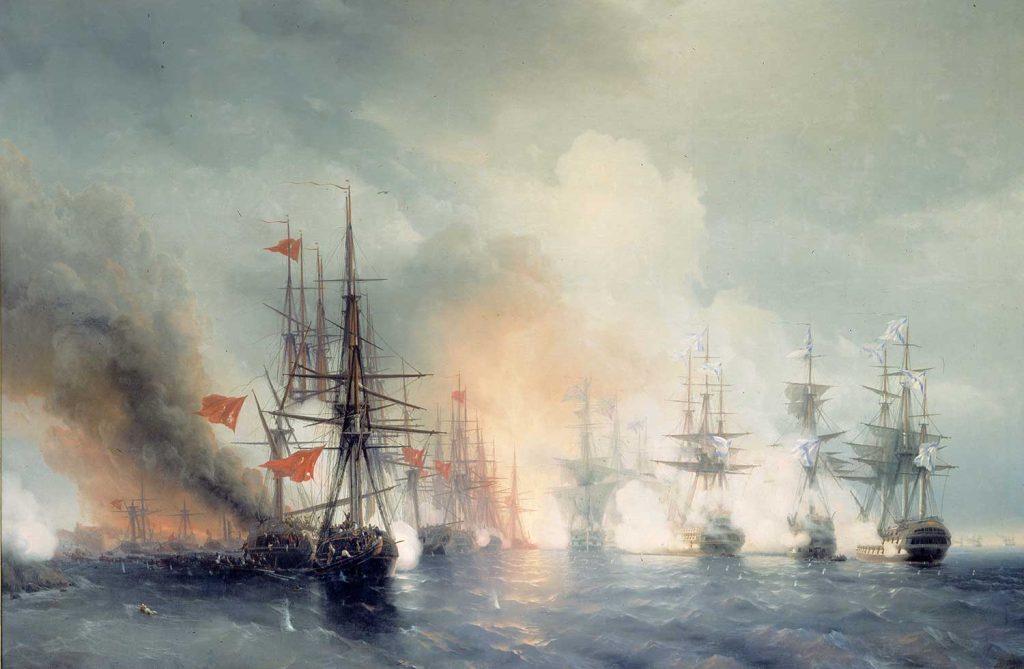 The Battle of Sinop by Ivan Aivazovsky is in Private Collection and is made of oil on canvas.
The Artist: Russian-Armenian Romantic painter Ivan Konstantinovich Aivazovsky was born in Feodosia (1817). Aivazovsky's childhood was spent in poverty on the outskirts of the city facing the beautiful Feodosia Bay and the ruins of an ancient Greek fortress. Young Ivan was mesmerized by the grandeur of the view and the heroic stories told about the Greeks and the famous battles of the past. His talent was discovered at a very early age. He was taken on as an apprentice by a local architect and later sent to a gymnasium in Simferopol where he showed such amazing artistic skills that influential locals helped him move to St. Petersburg to enter the Academy of Art.
Aivazovsky traveled to Europe and lived briefly in Italy. He first traveled to Venice via Berlin and Vienna and visited San Lazzaro degli Armeni, where an important Armenian Catholic congregation was located and his brother Gabriel lived at the time. Aivazovsky studied Armenian manuscripts and became familiar with Armenian art. He met Russian novelist Nikolai Gogol in Venice. He then headed to Florence, Amalfi and Sorrento. In Florence, he met painter Alexander Ivanov. He remained in Naples and Rome between 1840 and 1842… Read more.
---
This painting is available for purchase as an art print on canvas from canvastar.com

---