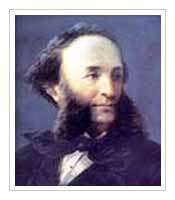 Ivan Konstantinovich Aivazovsky (1817 – 1900)
Russian-Armenian Romantic painter Ivan Konstantinovich Aivazovsky was born in Feodosia (1817). Aivazovsky's childhood was spent in poverty on the outskirts of the city facing the beautiful Feodosia Bay and the ruins of an ancient Greek fortress. Young Ivan was mesmerized by the grandeur of the view and the heroic stories told about the Greeks and the famous battles of the past. His talent was discovered at a very early age. He was taken on as an apprentice by a local architect and later sent to a gymnasium in Simferopol where he showed such amazing artistic skills that influential locals helped him move to St. Petersburg to enter the Academy of Art.
Aivazovsky traveled to Europe and lived briefly in Italy. He first traveled to Venice via Berlin and Vienna and visited San Lazzaro degli Armeni, where an important Armenian Catholic congregation was located and his brother Gabriel lived at the time. Aivazovsky studied Armenian manuscripts and became familiar with Armenian art. He met Russian novelist Nikolai Gogol in Venice. He then headed to Florence, Amalfi and Sorrento. In Florence, he met painter Alexander Ivanov. He remained in Naples and Rome between 1840 and 1842.
Returned to Russia
When he returned to Russia in the early 1940s, he was appointed the official painter of the Russian navy and made an academician of the St. Petersburg Academy of Arts. Ivan Konstantinovich Aivazovsky was made an academician of the Imperial Academy of Arts and was appointed the "official artist of the Russian Navy to paint seascapes, coastal scenes and naval battles. In 1845, Aivazovsky traveled to the Aegean Sea with Duke Konstantin Nikolayevich and visited the Ottoman capital, Constantinople, and the Greek islands of Patmos and Rhodes.
In 1845, Aivazovsky settled in his hometown of Feodosia, where he built a house and studio. He isolated himself from the outside world, keeping a small circle of friends and relatives. Yet the solitude played a negative role in his art career. By the mid-nineteenth century, Russian art was moving from Romanticism towards a distinct Russian style of Realism, while Aivazovsky continued to paint Romantic seascapes and attracted heavy criticism.
Over the course of his 60-year career, he produced approximately 6,000 paintings and held 55 solo exhibitions in Europe and the United States. The phrase "worthy of Aivazovsky's brush" was coined by the writer Anton Chekhov in his 1897 play Uncle Vanya, solidifying the artist's lasting importance to the history of Russian art. Aivazovsky's house in Feodosia was opened as the Aivazovsky National Art Gallery in 1800, where it remains a tourist attraction. He died on May 2, 1900 in Feodosia, Russia.
---
---
---