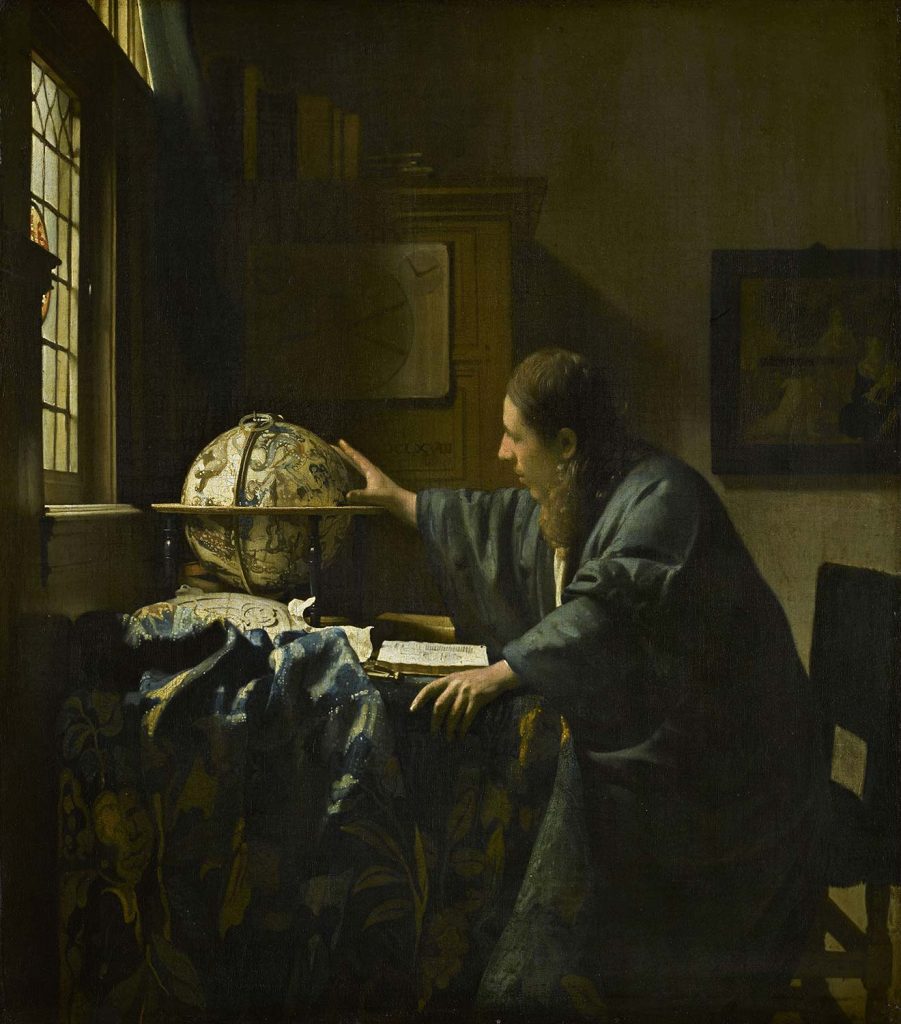 The Astronomer by Johannes Vermeer was created in 1668. The painting is in Musee du Louvre, Paris. The size of the work is 51 x 45 cm and is made as an oil on canvas.
Celestial globe by J. Hondius (1600) and manual of astronomy by Metius (1621) opening on the chapter devoted to the stars, with engraving of a wheel astrolabe invented by Metius. 16th century compass and astrolabe. Model sometimes identified, without proof, with the scholar Antoni van Leeuwenhoek (1632-1723), still too little known in 1668-1669.
In the background, a Moses saved from the waters, a painting by P. Lely from his Dutch period (before 1643) and perhaps from Vermeer's own collection and alluding here to divine Providence, in counterpoint to the activity of the astronomer. Take the theme of the scientist at work, dear to the Dutch tradition and also close to Saint Jerome and the hermits in prayer or meditation.
About the Artist: Dutch Baroque Period painter Johannes Vermeer specialized in domestic interior scenes of middle-class life. It is unclear where and with whom Vermeer apprenticed as a painter. There is some speculation that Carel Fabritius may have been his teacher. On 29 December 1653, Vermeer became a member of the Guild of Saint Luke, a trade association for painters. The guild's records make clear that Vermeer did not pay the usual admission fee. It was a year of plague, war, and economic crisis; Vermeer was not alone in experiencing difficult financial circumstances… Read more
---
You can order this work as an art print on canvas from canvastar.com

---