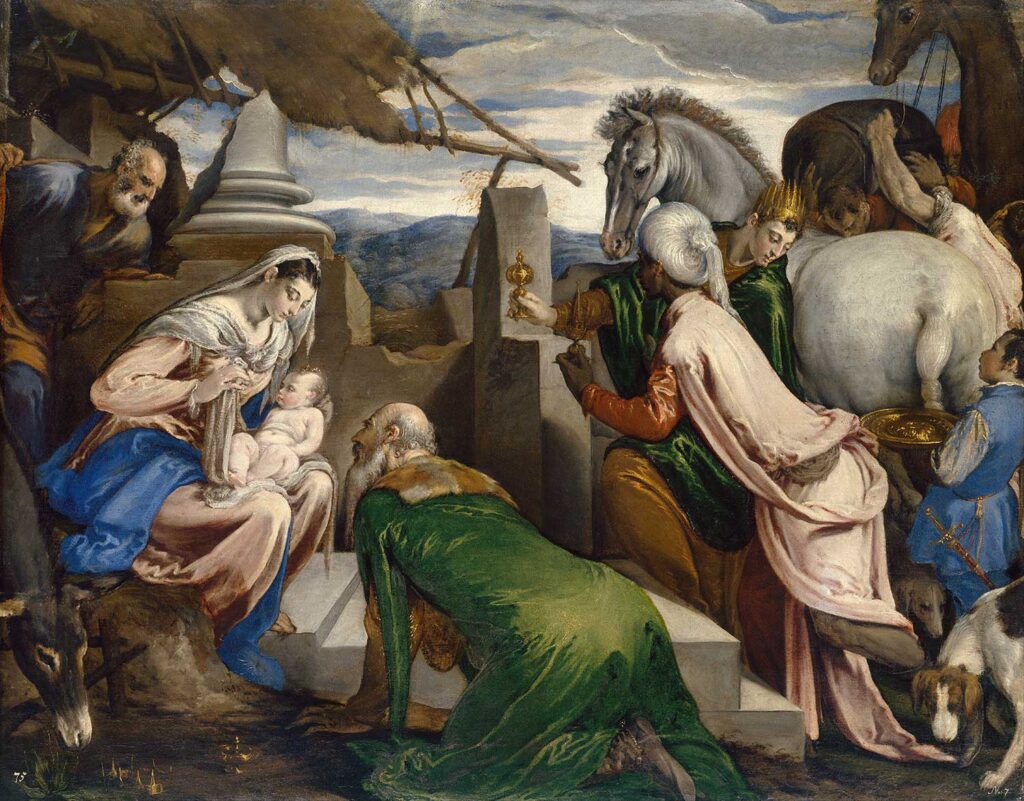 The Adoration of the Magi by Jacopo Bassano was created in 1564. The painting is in Kunsthistorisches Museum Wien. The size of the work is 92,3 x 117,5 cm and is made of oil on canvas.
With his rural scenes and their convincing realism, Jacopo Bassano brought a new accent to Venetian painting. At the same time, in his finest works including this one, he proved himself to be a leading exponent of Mannerism at the height of that period. With extremely bold contrasts of colour and refined design, he unexpectedly paints realistic details and abstract motifs right next to one another. Read more in Kunsthistorisches Museum Wien.
About the Artist: Jacopo Bassano was an Italian painter. He was born around 1510 in the town of Bassano del Grappa. Trained in the workshop of his father, Francesco the Elder, and studying under Bonifazio Veronese in Venice, he painted mostly religious paintings including landscape and genre scenes.
Jacopo Bassano was considered unique amongst his fellow Renaissance artists by his ability to incorporate diverse artistic influences into his work despite his reluctance to leave the comfort of his home town. Bonifazio de Pitati imparted upon his young pupil a lasting appreciation of Titian's work, the influence of which is clearly seen in his early pieces. Bassano's earliest paintings exhibit his lifelong obsession with brilliant colours that he had seen in Titian's beginning works, particularly in Bassano's Supper at Emmaus (1538). Read more….
---
Order a reproduction of this work (printed on canvas)
---