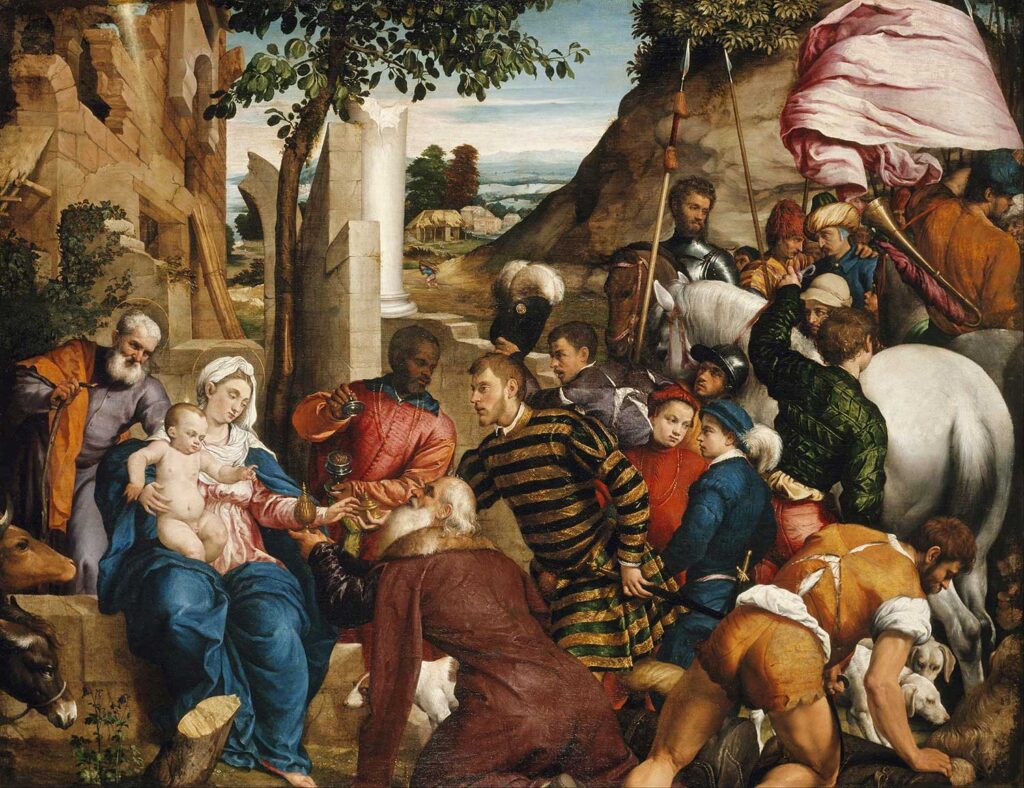 The Adoration of the Kings by Jacopo Bassano was created in 1540. The painting is in Scottish National Gallery Edinburgh. The size of the work is 183 x 235 cm and is made of oil on canvas.
The three kings or wise men bearing gifts pay homage to the new-born baby Jesus, accompanied by a colourful procession of attendants. The king at the centre in green and gold stripes may be a portrait of the original patron, the Venetian nobleman Jacopo Ghisi, from whom a down-payment is recorded in Bassano's account book in 1542. The painting demonstrates the artist's great skill in painting animals, for which he was famous. The ruined architecture is partly adapted from a woodcut by the great German artist Albrecht Dürer. Read more in Scottish National Gallery.
About the Artist: Jacopo Bassano was an Italian painter. He was born around 1510 in the town of Bassano del Grappa. Trained in the workshop of his father, Francesco the Elder, and studying under Bonifazio Veronese in Venice, he painted mostly religious paintings including landscape and genre scenes.
Jacopo Bassano was considered unique amongst his fellow Renaissance artists by his ability to incorporate diverse artistic influences into his work despite his reluctance to leave the comfort of his home town. Bonifazio de Pitati imparted upon his young pupil a lasting appreciation of Titian's work, the influence of which is clearly seen in his early pieces. Bassano's earliest paintings exhibit his lifelong obsession with brilliant colours that he had seen in Titian's beginning works, particularly in Bassano's Supper at Emmaus (1538). Read more….
---
Order a reproduction of this work (printed on canvas)
---