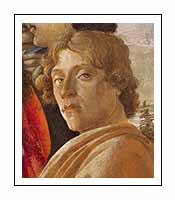 Sandro Botticelli (1445 – 1510)
Italian painter of the Early Renaissance Sandro Botticelli was born the city of Florence. From around 1461 or 1462 Botticelli was apprenticed to Fra Filippo Lippi. In 1472 Botticelli took on his first apprentice, the young Filippino Lippi, son of his master. Botticelli and Filippino's works from these years, including many Madonna and Child paintings, are often difficult to distinguish from one another.
In 1481, Pope Sixtus IV summoned Botticelli and other prominent Florentine and Umbrian artists to fresco the walls of the newly completed Sistine Chapel. This large project was to be the main decoration of the chapel. Botticelli painted a series of portraits of popes.
Mythological subjects
The masterpieces Primavera (c. 1482) and The Birth of Venus (c. 1485) are not a pair, but are inevitably discussed together; both are in the Uffizi. They are among the most famous paintings in the world, and icons of the Italian Renaissance. As depictions of subjects from classical mythology on a very large scale they were virtually unprecedented in Western art since classical antiquity. Together with the smaller and less celebrated Venus and Mars and Pallas and the Centaur, they have been endlessly analysed by art historians, with the main themes being: the emulation of ancient painters and the context of wedding celebrations, the influence of Renaissance Neo-Platonism, and the identity of the commissioners and possible models for the figures.
Botticelli painted only a small number of mythological subjects, but these are now probably his best known works. A much smaller panel than those discussed before is his Venus and Mars in the National Gallery, London. Botticelli had a lifelong interest in the great Florentine poet Dante Alighieri, which produced works in several media. He is attributed with an imagined portrait.
After his death, Botticelli's reputation was eclipsed longer and more thoroughly than that of any other major European artist. His paintings remained in the churches and villas for which they had been created, and his frescos in the Sistine Chapel were upstaged by those of Michelangelo.
---
---
References;
---