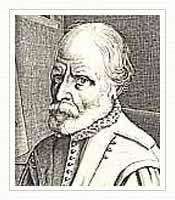 Pieter Aertsen (1509 – 1575)
Dutch mannerist painter Pieter Aertsen was born in Amsterdam (1509). He is credited with the invention of the monumental genre scene, which combines still life and genre painting and often also includes a biblical scene in the background. He was active in his native city Amsterdam but also worked for a long period in Antwerp, then the centre of artistic life in the Netherlands.
After he returned in 1556, various Amsterdam churches, his principal patrons, commissioned Aertsen to make large altarpieces. Soon, however, he abandoned religious art and started to paint scenes from peasant life. He was known above all for his paintings of market scenes and kitchen tableaux, which contained an abundance of fruit, fish, poultry, cheese, bread and much besides. His younger cousin and pupil Joachim Bueckelaer also painted in the same genre and developed it further.
Aertsen's work included the painting of large altarpieces as well as smaller devotional works. He is best known for the development of a new type of subject matter, paintings which combine prominent depictions of still-life scenes with religious episodes, or in which the still life provides the focus of attention in scenes of domestic life.
---
---
---