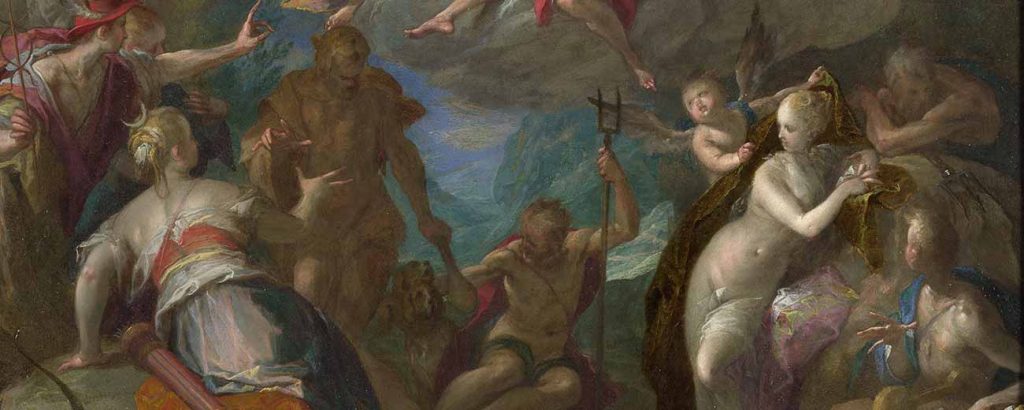 Mannerism, Italian Manierismo, (from maniera, "manner," or "style"), artistic style that predominated in Italy from the end of the High Renaissance in the 1520s to the beginnings of the Baroque style around 1590. The Mannerist style originated in Florence and Rome and spread to northern Italy and, ultimately, to much of central and northern Europe. The term was first used around the end of the 18th century by the Italian archaeologist Luigi Lanzi to define 16th-century artists who were the followers of major Renaissance masters.
There are two detectable strains of Mannerist painting. Early Mannerism (c.1520-35) is known for its "anti-classical", or "anti-Renaissance" style, which then developed into High Mannerism (c.1535-1580), a more intricate, inward-looking and intellectual style, designed to appeal to more sophisticated patrons.
As a whole, Mannerist painting tends to be more artificial and less naturalistic than Renaissance painting. This exaggerated idiom is typically associated with attributes such as emotionalism, elongated human figures, strained poses, unusual effects of scale, lighting or perspective, vivid often garish colours.
Mannerist artists evolved a style that is characterized by artificiality and artiness, by a thoroughly self-conscious cultivation of elegance and technical facility, and by a sophisticated indulgence in the bizarre. The figures in Mannerist works frequently have graceful but queerly elongated limbs, small heads, and stylized facial features, while their poses seem difficult or contrived. The deep, linear perspectival space of High Renaissance painting is flattened and obscured so that the figures appear as a decorative arrangement of forms in front of a flat background of indeterminate dimensions.
Concept for Mannerism
Mannerists sought a continuous refinement of form and concept, pushing exaggeration and contrast to great limits. The results included strange and constricting spatial relationships, jarring juxtapositions of intense and unnatural colours, an emphasis on abnormalities of scale, a sometimes totally irrational mix of classical motifs and other visual references to the antique, and inventive and grotesque pictorial fantasies.
In Mannerist paintings, compositions can have no focal point, space can be ambiguous, figures can be characterized by an athletic bending and twisting with distortions, exaggerations, an elastic elongation of the limbs, bizarre posturing on one hand, graceful posturing on the other hand, and a rendering of the heads as uniformly small and oval. The composition is jammed by clashing colors, which is unlike what we've seen in the balanced, natural, and dramatic colors of the High Renaissance. Mannerist artwork seeks instability and restlessness. There is also a fondness for allegories that have lascivious undertones.
---
---