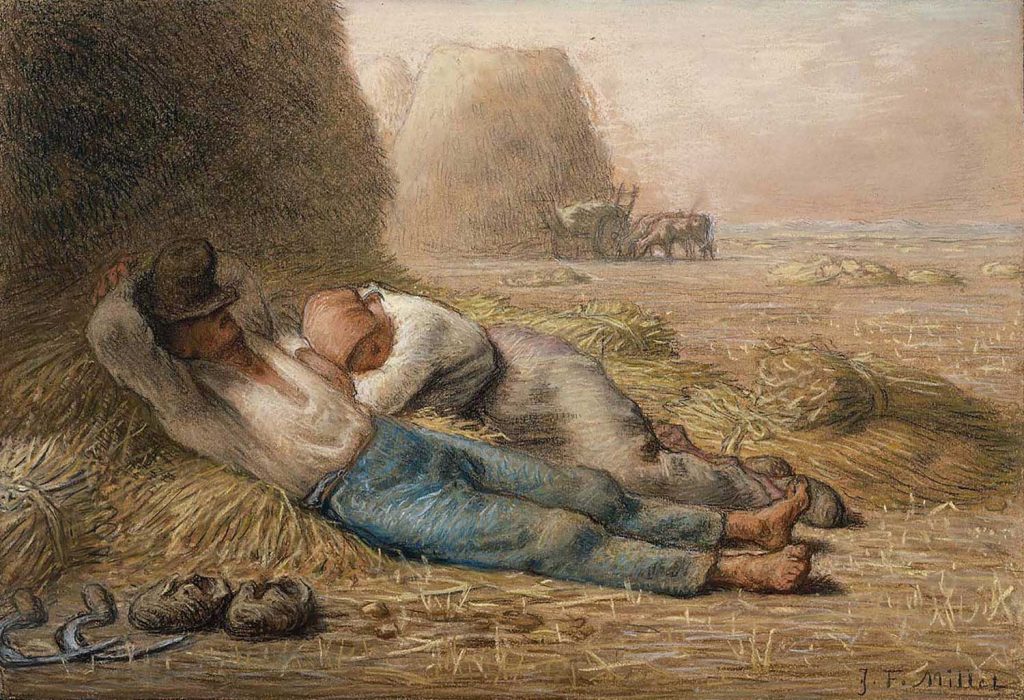 Noonday Rest by Jean-François Millet was created in 1866. The painting is in Museum of Fine Arts Boston. The size of the work is 29,2 x 41,9 cm and is made as an pastel on paper.
During the harvest, a peasant's workday could last from the early hours of the morning until well into the evening, punctuated only by meal times and a rest from the sun at midday. Here, a man and woman lay in the shade of a haystack. The wheat sheaves to their right mirror their pose, while the pairs of sickles, shoes, and distant cows all reinforce the theme of companionship.
This work was one of the first in a group of pastels commissioned by Emile Gavet, a wealthy Parisian patron of Millet. Read more in Museum of Fine Arts Boston.
About the Artist: French artist Jean-François Millet was born in Gruchy, Gréville-Hague. He was a French artist and one of the founders of the Barbizon school in rural France. Millet is noted for his paintings of peasant farmers and can be categorized as part of the Realism art movement. In 1833 his father sent him to Cherbourg to study with a portrait painter named Bon Du Mouchel. By 1835 he was studying with Théophile Langlois de Chèvreville, a pupil of Baron Gros, in Cherbourg… Read more
---
You can order this work as an art print on canvas from canvastar.com

---