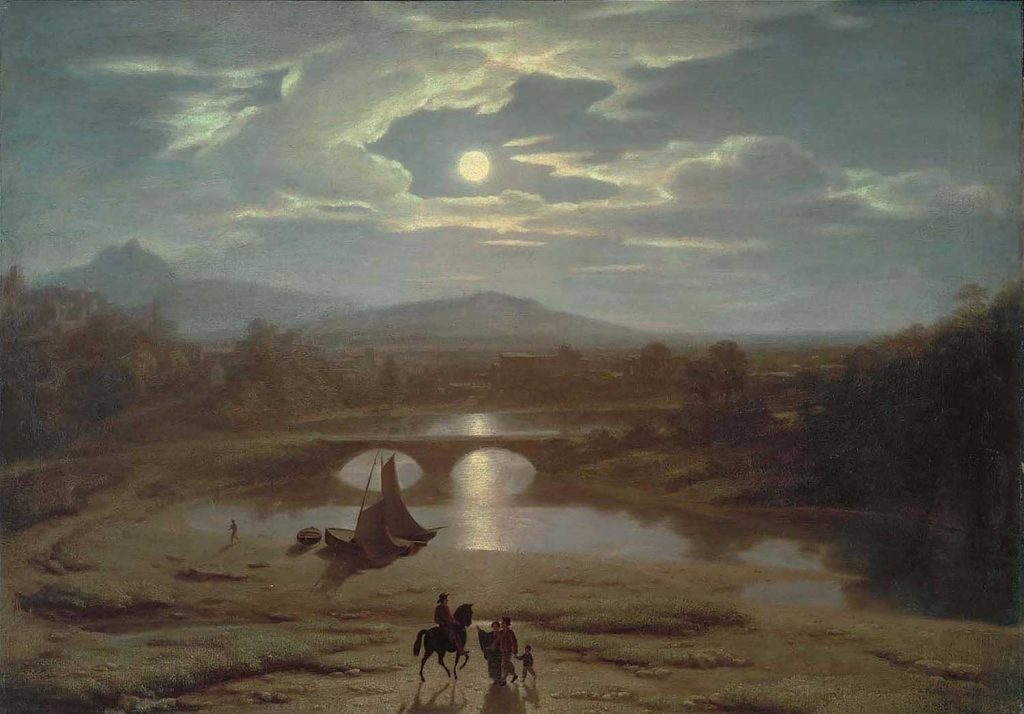 Moonlight by Washington Allston was created in 1809. The painting is in Museum of Fine Arts, Boston. The size of the work is 63,8 x 90,8 cm and is made of oil on canvas.
Moonlight has long been thought to be self-referential. The picture seems to deal with a voyage taken, or, rather, two voyages: one by sea just finished (indicated by the beached boat in the foreground) and one on land just begun (indicated by the horse and rider). Perhaps not coincidentally, Allston's own return to Boston in October 1818 occurred by moonlight on a calm sea. Yet boat, horse and rider, and moonlight also carry allegorical meaning, judging by Allston's use of these motifs in his own poetry. In "Sylphs of the Seasons" he equates the rider on horseback with the poet; in his "Sonnet to Coleridge" the sailboat represents the soul and night travel is meant to evoke the search for truth… Read more in Museum of Fine Arts Boston
The Artist: Washington Allston (1779 – 1843) was an American painter and poet, born in Waccamaw Parish, South Carolina. Allston pioneered America's Romantic movement of landscape painting. He was well known during his lifetime for his experiments with dramatic subject matter and his bold use of light and atmospheric color.
---
This painting is available for purchase as an art print on canvas from canvastar.com

---