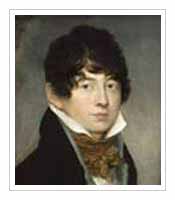 Washington Allston (1779 – 1843)
American Romantic Painter and Poet Washington Allston was born in 1779 in Waccamaw Parish, South Carolina. The artist received his first education at Newport Robert Roger's School in 1787. He entered Harvard University in 1796 and graduated successfully after four years. He went to London and became a student of Benjamin West at the Royal Academy of Arts. In 1803 he went to Paris and then to Italy via Switzerland. Especially influenced by Poussin and Rosa.
In 1808 he returned to America and got married. In 1811 he went back to London. In 1815, however, he entered a severe depression on the death of his partner. He did not paint for 2 years. In 1817 he was elected a member of the Royal Academy. In 1818 he returned to America and began to work again slowly.
In 1839 he opened a large personal exhibition with about 40 works in Boston. He died in 1843 at the age of 63.
He made large-scale paintings on the subjects of the Sacred Book (Tufan) and the first ages, based on the fusion of classicalism and romanticism. It was referred to as the American Tiziano in the art circles.
---
---
---