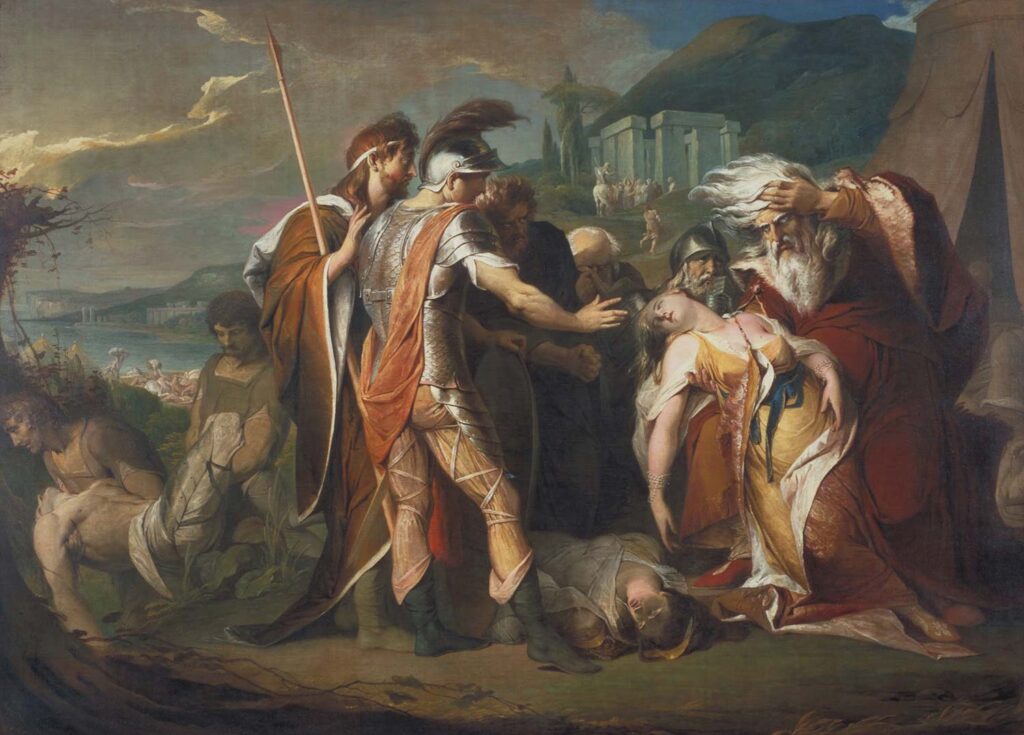 King Lear Weeping over the Dead Body of Cordelia by James Barry was created in 1786. The painting is in Tate Modern London. The size of the work is 269,2 x 367 cm and is made of oil on canvas.
Barry was a passionate champion of neo-classical history painting on a vast scale. After initial success he became a martyr to its cause, dying neglected and convinced of the hostility of the art establishment. This is one of Barry's most ambitious paintings, made for Alderman Boydell's 'Shakespeare Gallery', a collection of engraved scenes from Shakespeare by celebrated artists of the day. Boydell held an exhibition of the original pictures in 1789. Read more in Tate Modern London.
About the Artist: James Barry was an Irish painter, best remembered for his six-part series of paintings entitled The Progress of Human Culture in the Great Room of the Royal Society of Arts in London. He was born in Water Lane (now Seminary Road) on the northside of Cork, Ireland. Barry actually made several voyages as a boy, but convinced his father to let him study drawing and art. He first studied painting under local artist John Butts. About the age of seventeen he first attempted oil painting.
The painting that first brought him into public notice, and gained him the acquaintance and patronage of Edmund Burke, was founded on an old tradition of the landing of St Patrick. By the liberality of Burke and his other friends, Barry in the latter part of 1765 was enabled to go abroad. He went first to Paris, then to Rome. Soon after his return to England in 1771 he produced his picture of Venus, which was compared to the Galatea of Raphael, the Venus of Titian and the Venus de Medici. In 1773 he exhibited his Jupiter and Juno on Mount Ida. Read more…
---
Order a reproduction of this work (printed on canvas)
---