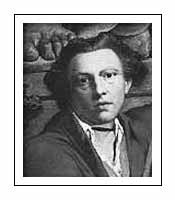 James Barry (1741 – 1806)
James Barry was an Irish painter, best remembered for his six-part series of paintings entitled The Progress of Human Culture in the Great Room of the Royal Society of Arts in London. He was born in Water Lane (now Seminary Road) on the northside of Cork, Ireland. Barry actually made several voyages as a boy, but convinced his father to let him study drawing and art. He first studied painting under local artist John Butts. About the age of seventeen he first attempted oil painting.
The painting that first brought him into public notice, and gained him the acquaintance and patronage of Edmund Burke, was founded on an old tradition of the landing of St Patrick. By the liberality of Burke and his other friends, Barry in the latter part of 1765 was enabled to go abroad. He went first to Paris, then to Rome. Soon after his return to England in 1771 he produced his picture of Venus, which was compared to the Galatea of Raphael, the Venus of Titian and the Venus de Medici. In 1773 he exhibited his Jupiter and Juno on Mount Ida.
In 1773 it was proposed to decorate the interior of St Paul's with historical and sacred subjects; but the plan fell to the ground, from not meeting with the agreement of the bishop of London and the Archbishop of Canterbury. In 1774 a proposal was made through Valentine Green to Sir Joshua Reynolds, Benjamin West, Cipriani, Barry, and other artists to ornament the Great Room of the Society for the encouragement of Arts, Manufactures and Commerce (now the Royal Society of Arts), in London's Adelphi, with historical and allegorical paintings.
As an artist, Barry was more distinguished for the strength of his conceptions, and for his resolute and persistent determination to apply himself only to great subjects, than for his skill in designing or for beauty in his colouring. His drawing is not especially good, his colouring ordinary. He was impulsive; sometimes morose, sometimes sociable and urbane; jealous of his contemporaries, and yet capable of pronouncing a splendid eulogy on Reynolds.
---
---
References
---