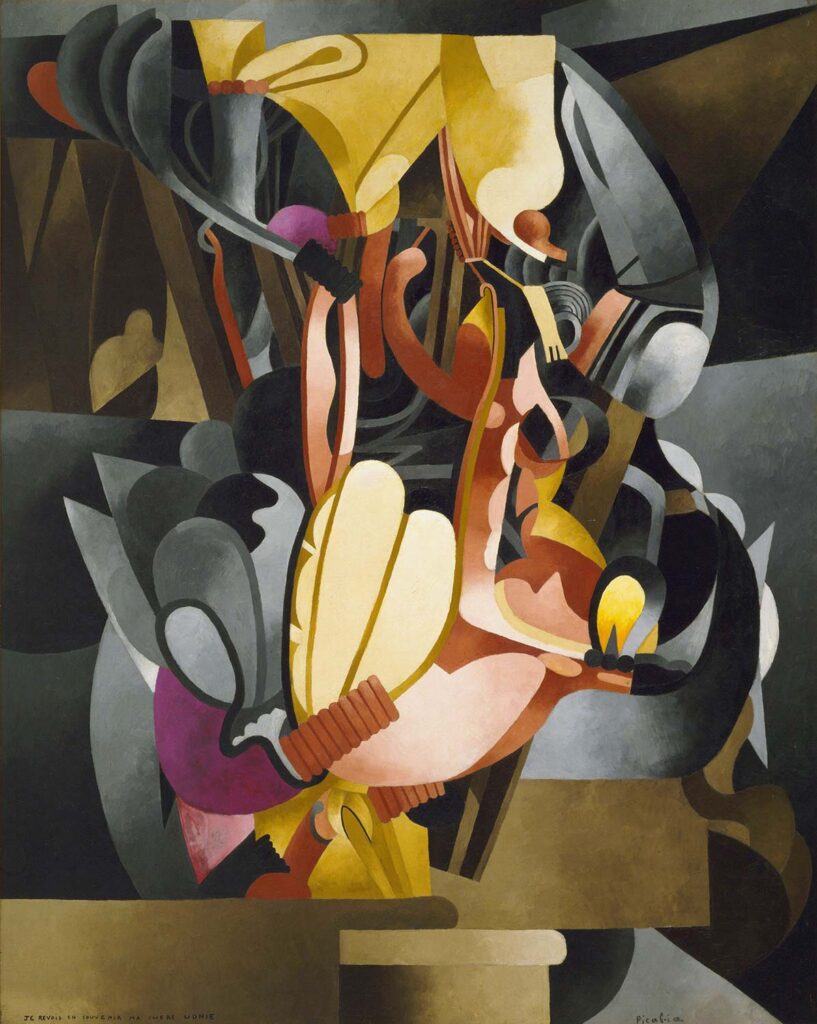 I See Again in Memory My Dear Udnie by Francis Picabia was created in 1914. The painting is in Museum of Modern Art New York. The size of the work is 250,2 x 198,8 cm and is made of oil on canvas.
Around 1914 Picabia began to pilfer words and phrases from the encyclopedic Petit Larousse dictionary for use in his own works. He based this painting's title on a line from Virgil's Aeneid from that source—"Dying, he saw again in memory his dear Argos"—substituting "Udnie," a name of Picabia's own invention. The artist associated the name with his memories of French dancer Stacia Napierkowska rehearsing onboard during his transatlantic journey to New York in 1913. "Udnie" is also an anagram of the last name of French musicologist Jean d'Udine, whose theory of synesthesia (published in 1910) linked painting with music and dance through the concept of rhythm. Read more in Museum of Modern Art New York.
About the Artist: French avant-garde painter, poet and typographist Francis Picabia was born in Paris. Picabia's artistic ability was apparent from his youth. In 1894, he copied a collection of Spanish paintings. During the late 1890s, Picabia began to study art under Fernand Cormon and others at École des Arts Decoratifs.
Early in his career, from 1903 to 1908, Picabia was influenced by the Impressionist paintings of Alfred Sisley. His subject matter included small churches, lanes, roofs of Paris, riverbanks, wash houses, and barges. From 1909, his style changed as he came under the influence of a group of artists soon to be called Cubists. Picabia continued his involvement in the Dada movement through 1919 in Zürich and Paris, before breaking away from it after developing an interest in Surrealist art. Read more
---
Order a reproduction of this work (printed on canvas)
---