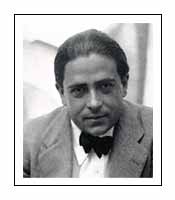 Francis Picabia (1879 – 1953)
French avant-garde painter, poet and typographist Francis Picabia was born in Paris. Picabia's artistic ability was apparent from his youth. In 1894, he copied a collection of Spanish paintings. During the late 1890s, Picabia began to study art under Fernand Cormon and others at École des Arts Decoratifs.
Early in his career, from 1903 to 1908, Picabia was influenced by the Impressionist paintings of Alfred Sisley. His subject matter included small churches, lanes, roofs of Paris, riverbanks, wash houses, and barges. From 1909, his style changed as he came under the influence of a group of artists soon to be called Cubists. Picabia continued his involvement in the Dada movement through 1919 in Zürich and Paris, before breaking away from it after developing an interest in Surrealist art.
In 1925, Picabia returned to figurative painting, and during the 1930s became a close friend of the modernist novelist Gertrude Stein. Before the end of World War II, he returned to Paris where he resumed abstract painting and writing poetry. A large retrospective of his work was held at the Galerie René Drouin in Paris in the spring of 1949. Francis Picabia died in Paris in 1953 and was interred in the Cimetière de Montmartre.
---
---
References
---