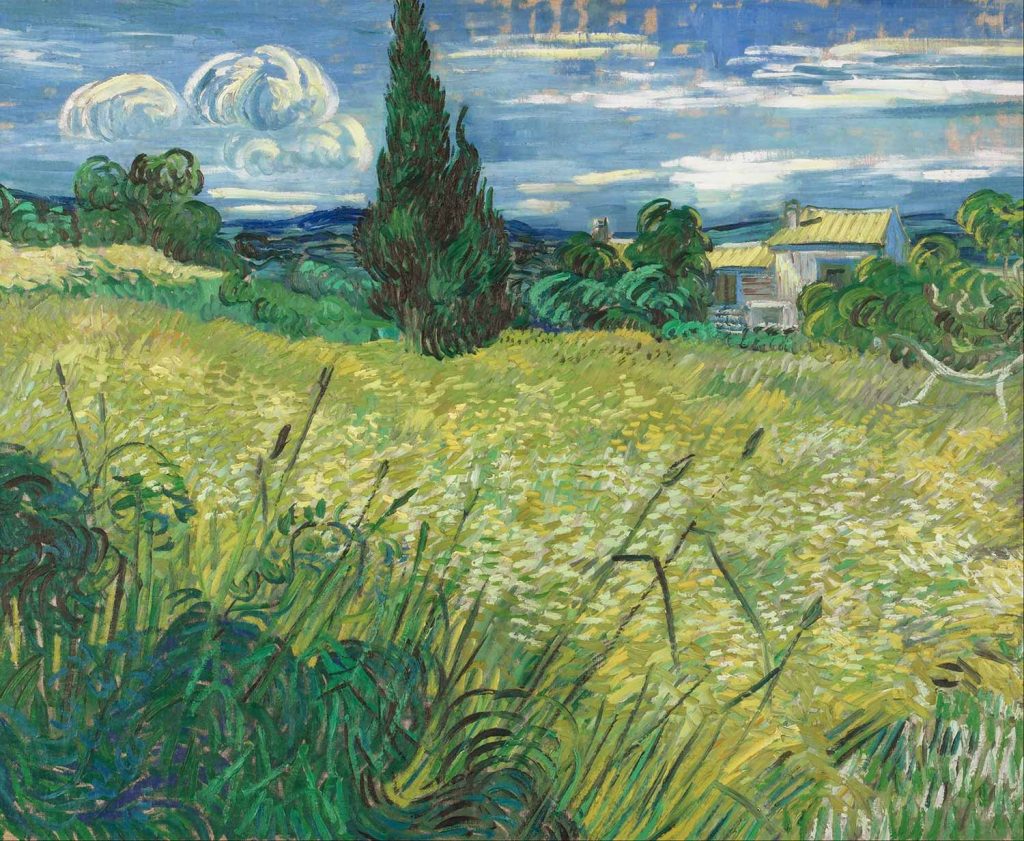 Green Wheat Field with Cypress by Vincent van Gogh was created in 1889. The painting is in Prague National Gallery. The size of the work is 73 x 92,5 cm and is made as an oil on canvas.
Van Gogh produced this painting during his stay in Saint-Paul de Mausole sanatorium near Saint-Rémy in June 1889. The painting depicts a field of wheat turning yellow with the Alpilles Mountains in the far back, a small house, and a dark tall cypress tree which dominates the painting composition. Unlike the artist's other late paintings, this one gives a balanced and peaceful impression. Nonetheless, van Gogh's impasto and relief style has remained.
He was particularly taken with the local cypress trees, which he painted several times. This picture reflects his increasingly free brushstrokes that create a rhythmic sense of languid horizontal movement that is counterbalanced through the strong vertical lines of the tree and wheat shafts in the foreground.
About the Artist: Dutch Post-Impressionist painter Vincent van Gogh was born in Groot-Zundert. Van Gogh was a serious and thoughtful child. His interest in art began at a young age. Constant Cornelis Huijsmans, who had been a successful artist in Paris, taught the students at Tilburg. His philosophy was to reject technique in favour of capturing the impressions of things, particularly nature or common objects. Van Gogh's profound unhappiness seems to have overshadowed the lessons, which had little effect. In March 1868, he abruptly returned home. He later wrote that his youth was "austere and cold, and sterile"… Read more
---
You can order this work as an art print on canvas from canvastar.com

---