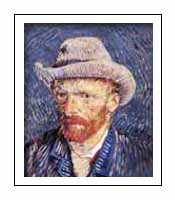 Vincent van Gogh (1853 – 1890)
Dutch Post-Impressionist painter Vincent van Gogh was born in Groot-Zundert. Van Gogh was a serious and thoughtful child. His interest in art began at a young age. Constant Cornelis Huijsmans, who had been a successful artist in Paris, taught the students at Tilburg. His philosophy was to reject technique in favour of capturing the impressions of things, particularly nature or common objects. Van Gogh's profound unhappiness seems to have overshadowed the lessons, which had little effect. In March 1868, he abruptly returned home. He later wrote that his youth was "austere and cold, and sterile".
Van Gogh moved in September 1883 to Drenthe in the northern Netherlands. In December driven by loneliness, he went to live with his parents, then in Nuenen, North Brabant. In Nuenen, Van Gogh focused on painting and drawing. Working outside and very quickly, he completed sketches and paintings of weavers and their cottages. Van Gogh painted several groups of still lifes in 1885. During his two-year stay in Nuenen, he completed numerous drawings and watercolours and nearly 200 oil paintings. His palette consisted mainly of sombre earth tones, particularly dark brown, and showed no sign of the vivid colours that distinguished his later work.
Van Gogh moved to Paris in March 1886 where he shared Theo's rue Laval apartment in Montmartre and studied at Fernand Cormon's studio. Van Gogh learned about Fernand Cormon's atelier from Theo. He worked at the studio in April and May 1886, where he frequented the circle of the Australian artist John Peter Russell, who painted his portrait in 1886.
Arles
Ill from drink and suffering from smoker's cough, in February 1888 Van Gogh sought refuge in Arles. He seems to have moved with thoughts of founding an art colony. The Danish artist Christian Mourier-Petersen became his companion for two months, and, at first, Arles appeared exotic. The time in Arles became one of Van Gogh's more prolific periods: he completed 200 paintings and more than 100 drawings and watercolours.
When Gauguin agreed to visit Arles in 1888, Van Gogh hoped for friendship and the realisation of his idea of an artists' collective. While waiting, in August he painted Sunflowers. In preparation for Gauguin's visit, Van Gogh bought two beds on advice from the station's postal supervisor Joseph Roulin, whose portrait he painted.
Van Gogh and Gauguin visited Montpellier in December 1888, where they saw works by Courbet and Delacroix in the Musée Fabre. Their relationship began to deteriorate; Van Gogh admired Gauguin and wanted to be treated as his equal, but Gauguin was arrogant and domineering, which frustrated Van Gogh.
Auvers-sur-Oise
In May 1890, Van Gogh left the clinic in Saint-Rémy to move nearer to both Dr Paul Gachet in the Paris suburb of Auvers-sur-Oise and to Theo. The painter Charles Daubigny moved to Auvers in 1861 and in turn drew other artists there, including Camille Corot and Honoré Daumier. In July 1890, Van Gogh completed two paintings of Daubigny's Garden, one of which is likely his final work.
Van Gogh strove to be a painter of rural life and nature; during his first summer in Arles he used his new palette to paint landscapes and traditional rural life. His belief that a power existed behind the natural led him to try to capture a sense of that power, or the essence of nature in his art, sometimes through the use of symbols. Vincent van Gogh stayed within what he called the "guise of reality" and was critical of overly stylised works.
---
---
References;
---