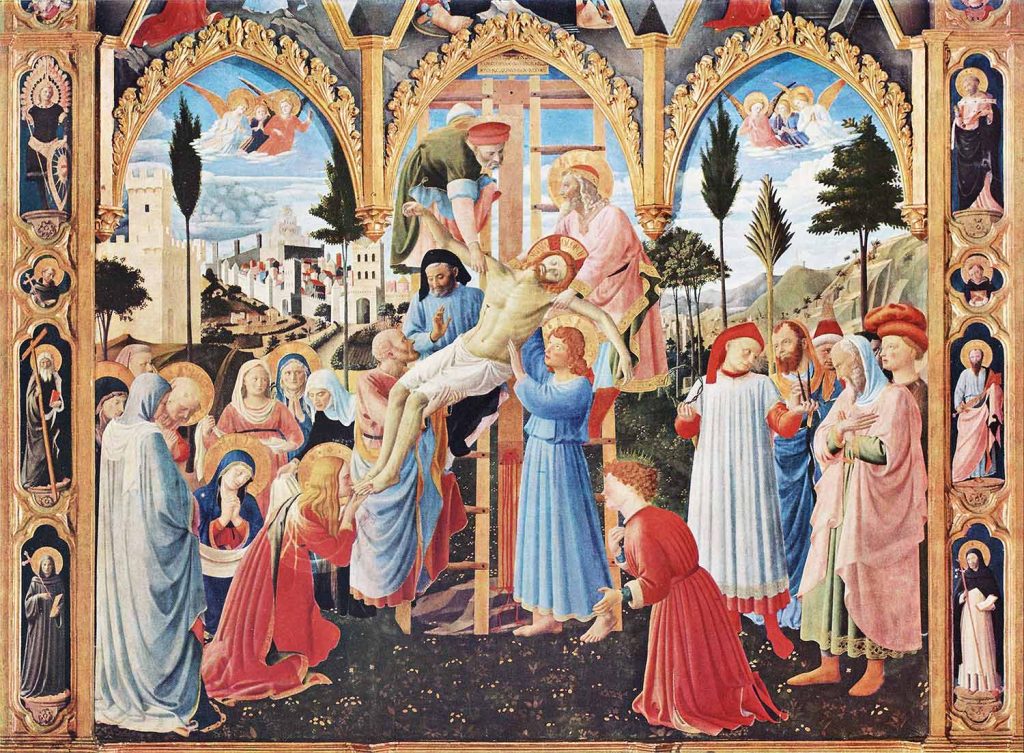 Deposition of Christ by Fra Angelico was created in 1432 – 1434. The painting is in Museo di San Marco, Florence. The size of the work is 176 x 185 cm and is made as an tempera on panel.
The detail across this scene is extraordinary, with a whole host of carefully placed figures dotted in each and every corner. There is also, additionally, a bright landscape with a fortified city lying in the background. This prominent commission was for the Florentine church of Santa Trinita. Angelico would take over this altarpiece project personally after the former's untimely death and lead it through to completion.
He would have to stick with the original Gothic frame and the somewhat restrictive angles that this brought with it, but handled the challenge with his usual grace and poise. It was to be displayed in the Strozzi Chapel before later being transferred to the National Museum of San Marco in Florence in order to preserve it for future generations.
The Artist: Italian Renaissance painter Fra Angelico is estimated to have been born in Rupecanina around 1387. His real name is Guido di Pietro da Mugello. The name Fra Angelico was given to him by a Dominican god. The Dominican Church and Santo Domenico de Fiesole's frescoes. Later he and his brother Beneditto painted books. Because of the trick he showed II. It was declared saint by John Paul. He performed religious scenes in his frescoes.
---
You can order this work as an art print on canvas from canvastar.com

---
References;