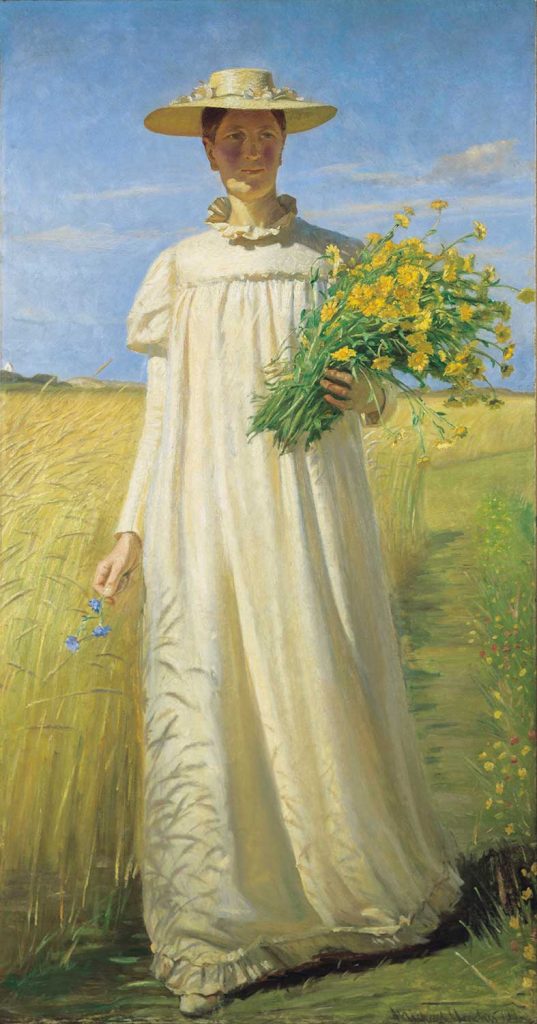 Anna Archer Returning from the Field by Michael Peter Ancher was created in 1902. The painting is in Skagens Museum, Skagen. The size of the work is 187,1 x 98,3 cm and is made as an oil on canvas.
This is a warm, evocative painting, which is dominated by the blue summer sky, the yellow field and the figure of the calmy walking figure of Anna Ancher, who was not only the wife of the artist, but also his collegaue. In the background to the far left, you can see the sand-covered church south of Skagen. Anna Ancher is dressed in a so-called 'reform dress'. This kind of 'rational dress' was popular in the United States and Europe in the late nineteenth century, particularly among artists. The term was used about simple, uncorseted dresses that did not restrict the wearer's figure. The portrait says a lot about the artist and his wife, Anna, and their mutually respectful relationship… (read more in Skagens Museum)
The Artist: Michael Peter Ancher (1849 – 1927) was a Danish realist artist. He is remembered above all for his paintings of fishermen and other scenes from the Danish fishing community in Skagen. He was influenced by his traditional training at the Royal Danish Academy of Fine Arts.
---
You can order this work as an art print on canvas from canvastar.com

---