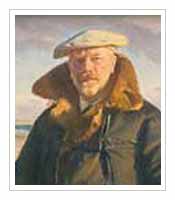 Michael Ancher (1849 – 1927)
The Danish Realist painter Michael Ancher was born in 1849 as a child of a merchant family in Rutsker. He studied at the Nielsen Drawing School in Copenhagen in 1870-71 and then went to the Art Academy. As a painter in 1874 (Paris and Italy) especially long journeys appeared.
In 1884 he returned to Skagen and founded an impressionist school called Skagen Painters with his family and friends. The school, which has international connections, concentrated mainly on Northern and Eastern Sea tastes and light researches.
One of his student companions was Karl Madsen who invited him to travel to Skagen, a small fishing village in the far north of Jutland where the Baltic and North Sea converge. From the mid-1870s, he and Madsen became key members of a group of artists who congregated there each summer, known as the Skagen Painters.
After Ancher first visited Skagen in 1874, he settled there joining the growing society of artists. The colony of painters regularly met in the Brøndums Hotel in Skagen in order to exchange ideas.
---
---
More information
---