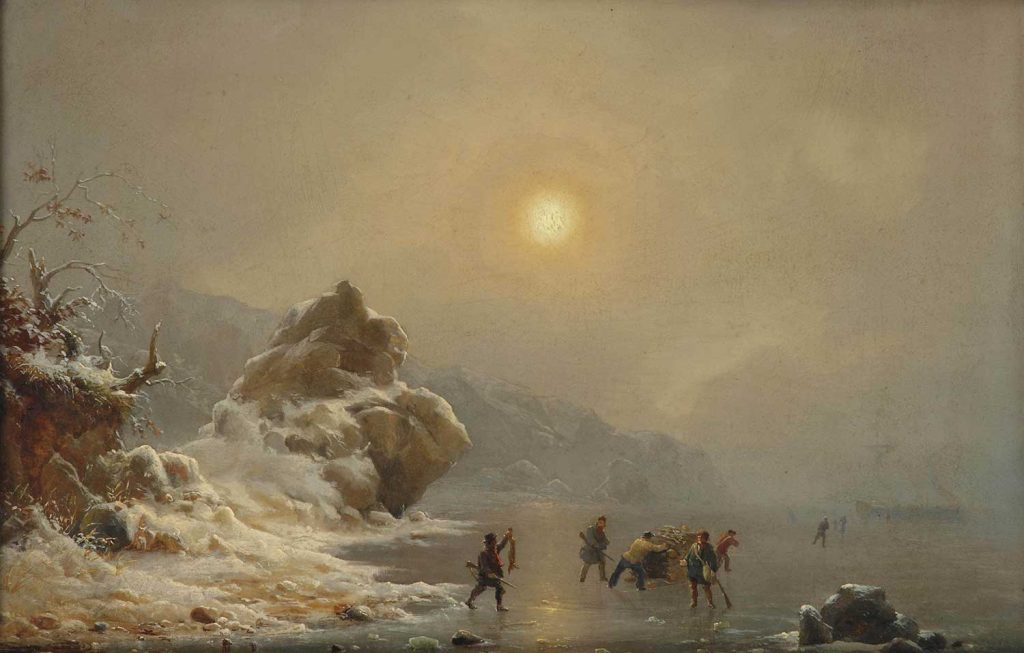 A Winter Landscape with Hunters on the Ice by Andreas Achenbach was created in 1862. The painting is in Private Collection and is made of oil on canvas.
The Artist:
German romantic painter Andreas Achenbach was born in Kassel (1815). Apart from the art sense of the maternal grandfather, the tobacco manufacturer Andreas Zilch Kassel, little hint that this family would emerge two important for the 19th century painters. Achenbach's father worked in a number of different professions. In 1816 he took over the management of a lead sugar factory in Mannheim. From there, in 1818, the family moved to Saint Petersburg.
Since the father failed with his project, it went back to the Rhine Province in 1823, to Elberfeld, where family members of the father lived. In Dusseldorf, the father soon worked as a beer and Essigbrauer and owned an inn, where artist personalities of the city wrong. Later, in this house was the wine industry To Rosenkranzchen, which henceforth gave the house its name. Hermann Achenbach left the apartment to his son Andreas around 1846 and moved to the Kaiserstraße, where he worked as an accountant… Read more.
---
This painting is available for purchase as an art print on canvas from canvastar.com

---