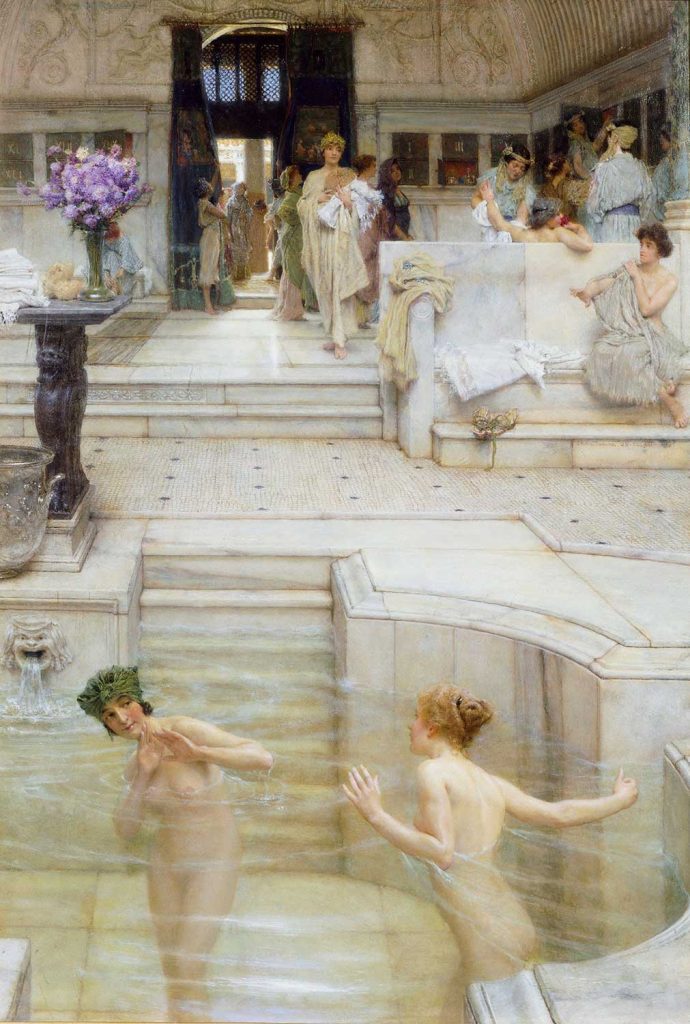 A Favourite Custom by Sir Lawrence Alma Tadema was created in 1909. The painting is in Tate Modern London. The size of the work is 66,1 x 45 cm and is made of oil on canvas.
This scene is set in the baths at Pompeii. In the foreground one woman playfully splashes another bathing in the 'frigidarium', a cold bath. The artist based this work on photographs of the ruins of the Stabian baths, revealed by archaeologists in 1824. He has made them more luxurious by adding a marble floor and walls which would more usually have been found in larger imperial baths. This small work attracted enormous success when it was exhibited and bought immediately for the nation… (read more in Tate Modern London)
The Artist: Sir Lawrence Alma-Tadema (1836 – 1912) was a Dutch painter of special British denizenship. Born in Dronrijp, the Netherlands. He trained at the Royal Academy of Antwerp, Belgium. He settled in England in 1870 and spent the rest of his life there. A classical-subject painter, he became famous for his depictions of the luxury and decadence of the Roman Empire, with languorous figures set in fabulous marbled interiors or against a backdrop of dazzling blue Mediterranean Sea and sky. Though admired during his lifetime for his draftsmanship and depictions of Classical antiquity. His works fell into disrepute after his death, and only since the 1960s has it been re-evaluated for its importance within nineteenth-century British art.
---
This painting is available for purchase as an art print on canvas from canvastar.com

---