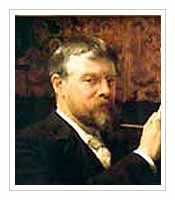 Sir Lawrence Alma Tadema (1836 – 1912)
Dutch-born British Academic Classicist painter Sir Lawrence Alma Tadema was born in Holland in 1836, studied at the Academy of Antwerp in Belgium, settled in England in 1870 and spent the rest of his life there. The artist, working on classical objects, is famous for his luxury-themed paintings on the collapse of the Roman Empire. In these narratives, there are striking marble textured spaces, or marble figures in the Mediterranean and the sky where the rear fascia is an eye-catching blue. The process of working with classical ancient civilizations with excellent technical painters and illustrations aroused admiration all over the world. In the last thirty years, his works have been re-examined and evaluated because of the importance of English art in the nineteenth century if he lost some reputation after his death.
Sir Lawrence Alma Tadema came to the world on June 8, 1836 under the name of Laurens Tadema. The town notary is the sixth child after three children from Pieter Jiltes Tadema's (1797 – 1840) previous marriage. Tadema (meaning – the son of Adam) is a family name in Frisian language. Ma means "son". The names Laurens and Alma come from the grandfather. Laurens starts to use Lawrence's name in order to be able to adapt more to the English language. Exhibit catalogs also include the Alma name in the index group because the letter "A" is in front of the letter "T" in indexes. In fact, we did not separate the surname from the hyphen itself, but others have used it in this way and have been using it in the same way today.
health problems
Sir Lawrence Alma Tadema lost his father when he was 4 years old. Since her mother had a tendency for fine arts, she and her brothers held special tutors to take painting lessons at home, and Laurens started her first drawings in this way. While everyone waited for Laurens to become a lawyer, in 1851, when he was fifteen years old, the artist suffered a period of breakthrough in terms of physical and mental balances. He was diagnosed with tuberculosis and was told that he had a very short period of his life.
In this way, he was allowed to make drawings and drawings while waiting for death. Unexpectedly, when he regained his health, Laurence decided to paint the rest of his life. In 1852 he entered the Antwerp Royal Academy, where he studied the early periods of Dutch and Flemish art at the Egide Charles Gustave Wappers workshop. Alma-Tadema has won many rewarding awards throughout his four years of education at the Academy.
assistantships
Just before his schooling in 1855, Professor Louis (Lodewijk), whose specialty was history and historical costumes, became the assistant of Jan de Taeye. Although Taeye was recognized as a very distinguished painter, Alma-Tadema respected herself and assisted in the studio for three years. De Taeye introduced him to the books that would inspire Merovin depictions he used in his early career. The bases of meticulously created historical illustrations in his paintings, which will later be recognized in real manhood, have always been laid here. Sir Lawrence Alma Tadema abandoned Taeye's workshop in 1858 and began working at Baron Jan August Hendrik Leys atelier, one of Belgium's most respected workshops.
Under his leadership, Alma-Tadema portrayed his first masterpiece. "Clovis's Children's Education" (1861) This painting has created a great sensation among the critics and artists in the exhibit at the Congress of Artists in Antwerp. Leys, who is also a master of marble processing in the picture and a critic of marble detailing at the same time, said that the finished picture is better than expected. Alma-Tadema always criticized Leys' criticism and became one of the world's leading marble and granite painters.
Until the mid-1860s, Merovin-inspired paintings are the main themes of the artist's painting. In these paintings, the painful emotions of the painter and the spirit of romanticism are felt very strongly. As Merovin-inspired paintings fail to gain international prestige, the artist begins to paint on the more popular Egyptian civilization. Alma-Tadema has done a lot of research on the lives of Frank and Egypt and has spent a lot of energy on these themes. In 1862, the artist left Leys' workshop and established his own workshop.
Victorian
Undoubtedly, Sir Lawrence Alma-Tadema is one of the most successful painters of the Victorian era. However, at the end of the Victorian period, the market value of his works has fallen considerably with modern works of painters such as Gaugin, Picasso, Matisse and new ideas. Alma-Tadema has witnessed new trends such as Post Impressionism, Faubism, Cubism and Futurism in recent years, but he has not supported any of them. Student John Collier; "The art of Alma-Tadema should not be compared with Matisse, Gauguin and Picasso."
---
---
---