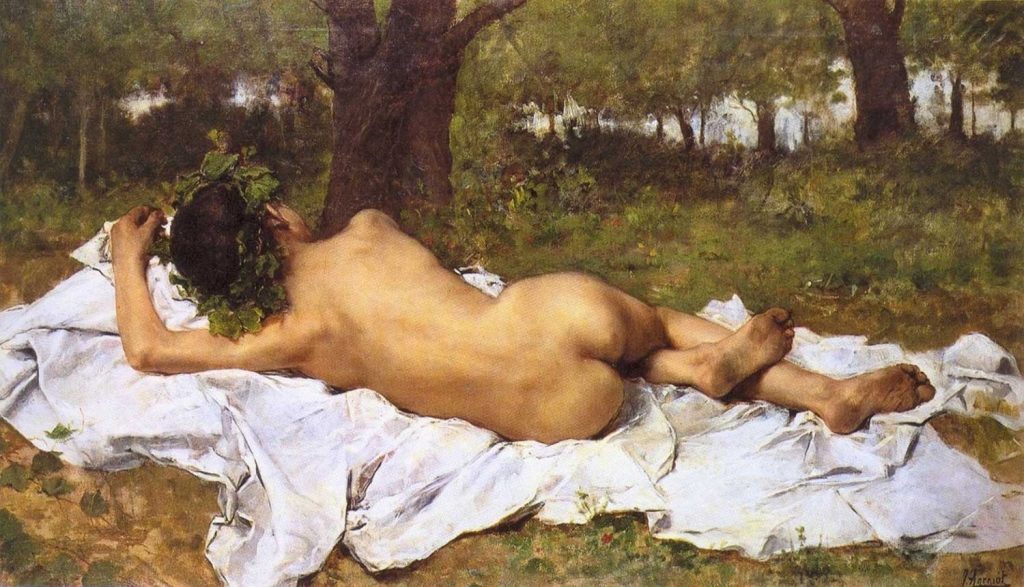 Young Bacchus by Joaquin Agrasot was created in 1872. The painting is in Museu de Belles Arts de Valencia. The size of the work is 85,5 x 146 cm and is made of oil on canvas.
The Artist: Joaquín Agrasot y Juan (1836 – 1919) was a Spanish painter of the Realistic style who produced many works in the Costumbrismo genre. His studies began in his home town and, in 1856, he received a fellowship from the "Diputación Provincial de Alicante", the local government. He then enrolled at the Real Academia de Bellas Artes de San Carlos de Valencia, where he studied with the art restorer Francisco Martínez Yago, the father of Salvador Martínez Cubells.
The following year, he received another fellowship to study in Rome. While there, he became a member of the artistic circle that congregated at the Antico Caffè Greco; a group that included Eduardo Rosales, José Casado del Alisal and Marià Fortuny. These contacts had a profound influence on his style. He submitted many canvases to the National Exhibition of Fine Arts and received substantial recognition. Although he largely devoted himself to Costumbrismo paintings, which were often criticized as being too commercial, his paintings on historical subjects were very popular.
---
This painting is available for purchase as an art print on canvas from canvastar.com

---