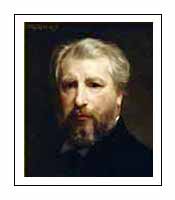 William-Adolphe Bouguereau (1825 – 1905)
French academic painter William-Adolphe Bouguereau was born in La Rochelle. At the age of twelve, Bouguereau went to Mortagne-sur-Gironde to stay with his uncle Eugène, a priest, and developed a love of nature, religion and literature. In 1839, he was sent to study for the priesthood at a Catholic college in Pons. Here he was taught to draw and paint by Louis Sage, who had studied under Ingres. Bouguereau reluctantly left his studies to return to his family, now residing in Bordeaux. Bouguereau became a student at the École des Beaux-Arts. To supplement his formal training in drawing, he attended anatomical dissections and studied historical costumes and archeology.
He was admitted to the studio of François-Édouard Picot, where he studied painting in the academic style. Dante and Virgil in Hell (1850) was an early example of his neo-classical works. The young artist entered the Prix de Rome contest in April 1848. Soon after work began there were riots in Paris, and Bouguereau enrolled in the National Guard. After an unsuccessful attempt to win the prize, he entered again in 1849. Following 106 days of competition, he again failed to win.
Bouguereau, painting within the traditional academic style, exhibited at the annual exhibitions of the Paris Salon for his entire working life. Raphael was a favourite of Bouguereau and he took this review as a high compliment. He had fulfilled one of the requirements of the Prix de Rome by completing an old-master copy of Raphael's The Triumph of Galatea. In many of his works, he followed the same classical approach to composition, form, and subject matter.
Academie Julian
From the 1860s, Bouguereau was closely associated with the Académie Julian where he gave lessons and advice to art students, male and female, from around the world. During several decades he taught drawing and painting to hundreds, if not thousands, of students.
In the spring of 1905, Bouguereau's house and studio in Paris were burgled. On 19 August 1905, aged 79, Bouguereau died in La Rochelle from heart disease.
Bouguereau's career was nearly a direct ascent with hardly a setback. To many, he epitomized taste and refinement, and a respect for tradition. To others, he was a competent technician stuck in the past. Bouguereau's works were eagerly bought by American millionaires who considered him the most important French artist of that time.
---
---
References;
---