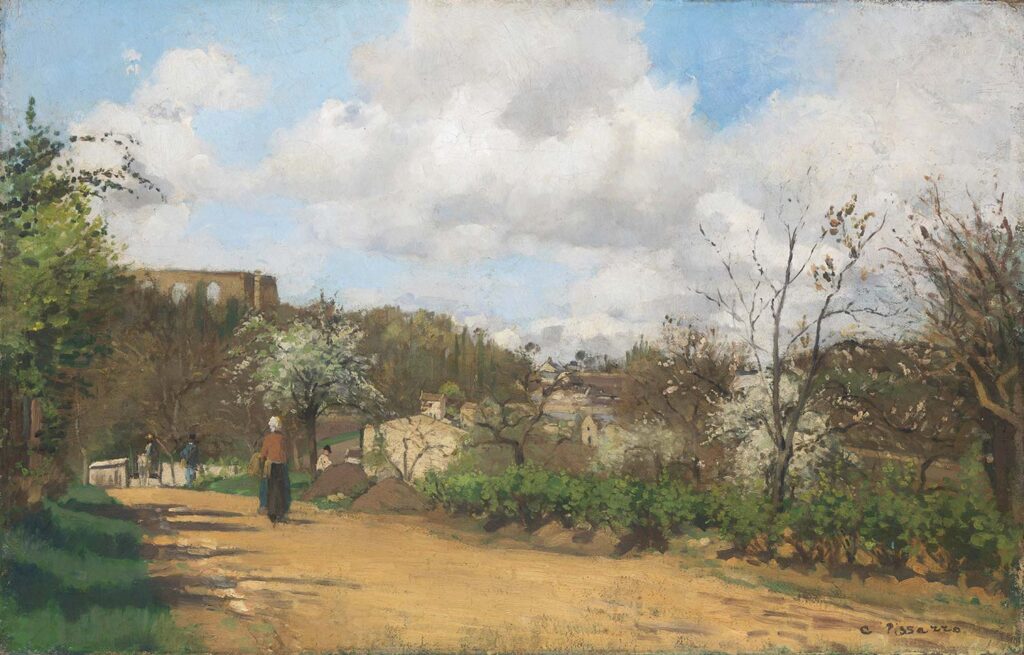 View from Louveciennes by Camille Pissarro was created in 1870. The painting is in National Gallery London. The size of the work is 52,7 x 81,9 cm and is made of oil on canvas.
Pissarro and his family moved to Louveciennes in the spring of 1869, and he may have painted this picture shortly afterwards, or possibly in the spring of 1870. The white blossom on the apple trees indicates the time of year.
Only 30 minutes west of Paris by train, Louveciennes was an important location for the formation of early Impressionism, as it was one of the small towns and villages that were frequently visited by Impressionist painters in the late 1860s and early 1870s. Sisley lived nearby and Renoir often visited his parents' summer home there.
The picture was formerly titled Springtime, View of Louveciennes, although this is not in fact a view of the town, which is some distance away, to the left of the picture. Instead, we are looking at a road called the route de la Princesse, which ran from the train station at Bougival (where Monet was living) to Pissarro's house in Louveciennes. The group of houses in the middle of the painting is the neighbouring village of Voisins. Part of the Marly aqueduct can be seen against the sky on the left… Read more in National Gallery London
---