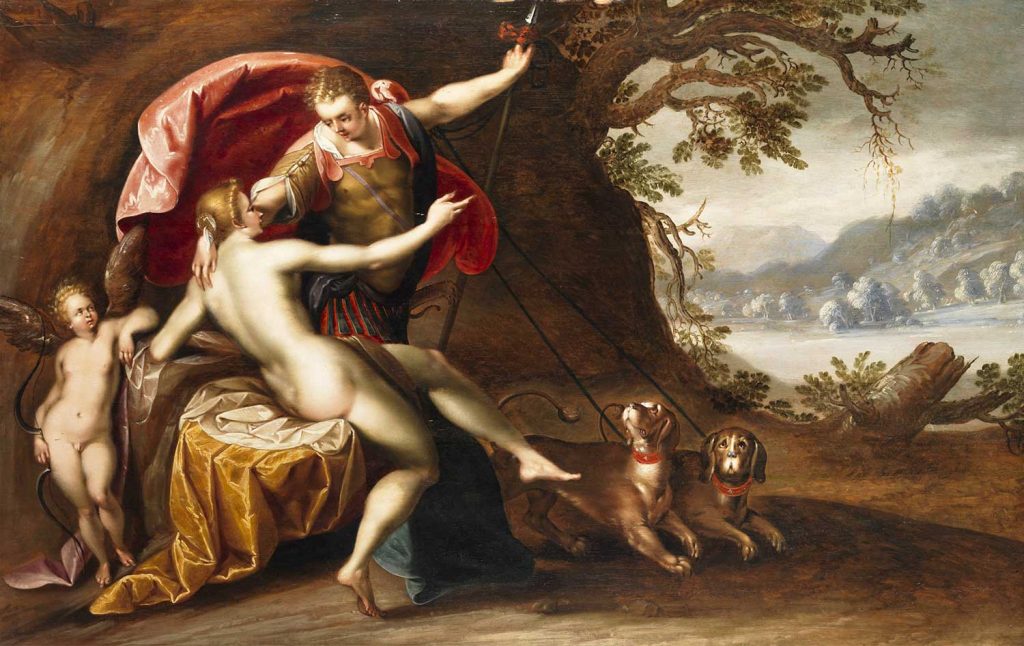 Venus and Adonis with Hounds by Hans von Aachen was created in 1615. The painting is in private collection. The size of the work is 66 x 104 cm and is made of oil on panel.
The Artist: Hans von Aachen (1552 – 1615) was a German painter who was one of the leading representatives of Northern Mannerism. Hans von Aachen was a versatile and productive artist who worked in many genres. He was successful as a painter of princely and aristocratic portraits, and further painted religious, mythological and allegorical subjects. He was active as a copyist and worked in the workshop of the Flemish painter and art dealer Gaspar Rem who was a native of Antwerp. Rem arranged for von Aachen to go through an apprenticeship with an artist referred to as Morett.
Von Aachen went to Rome in 1575. Here he studied the antique sculptures and the works of Italian masters. He returned to Germany in 1587, first to Augsburg where he painted portraits for the wealthy Fugger family. He also worked in Munich, where he was commissioned to paint two altarpieces for the church of St Michael. After visiting his home town Cologne and a return trip to Venice, he chose Munich as his residence from 1589. Read more.
---
This painting presented as Art Print on Canvas