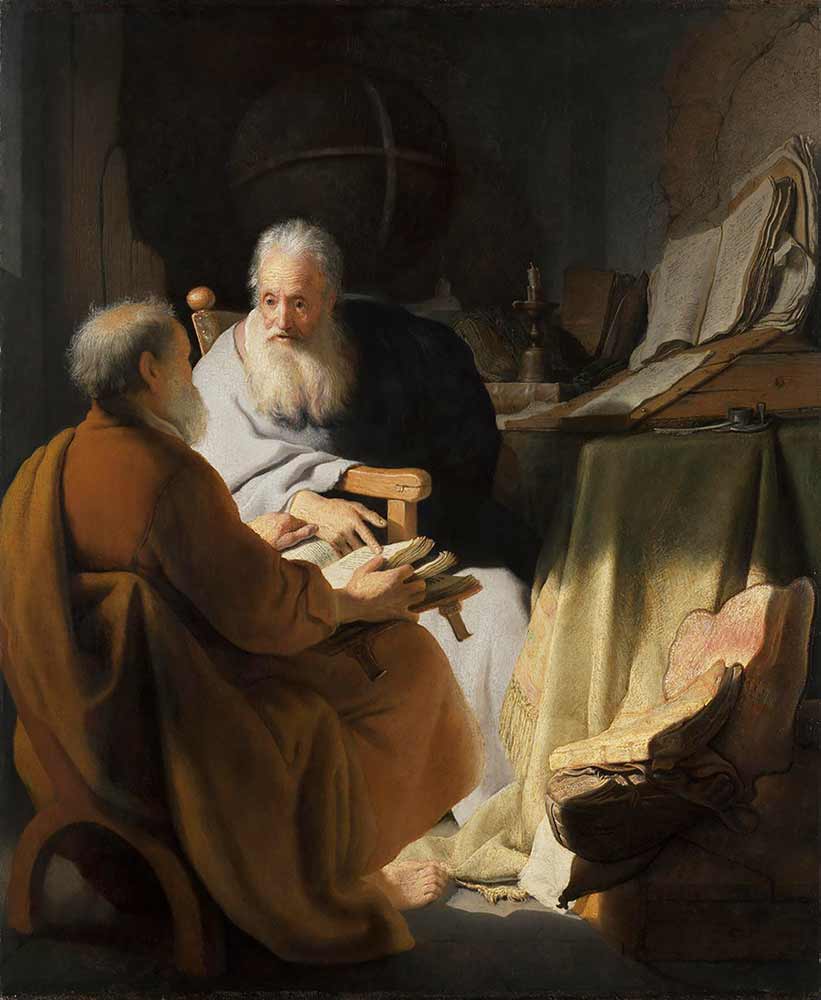 Two Old Men Disputing by Rembrandt van Rijn was created in 1628. The painting is in National Gallery of Victoria, Melbourne. The size of the work is 72.4 × 59.7 cm and is made of oil on wood panel.
embrandt painted Two old men disputing in his home town of Leiden when he was only in his early twenties. Yet this picture reveals the individuality and brilliance that distinguished him as Leiden's finest artist and compelled his permanent move in 1631 to the much larger and more cosmopolitan city of Amsterdam.
Rembrandt's use of dramatic lighting to create atmosphere is remarkable in this work and it anticipates his virtuoso use of chiaroscuro that characterises his later paintings. A brilliant shaft of sunlight falls diagonally from the upper left, illuminating one figure but leaving much of the picture in darkness. Rembrandt uses the contrasting light to draw the viewer's attention to the aged man in white, whose beard and wrinkled skin have been meticulously painted. Even in the shadows, the still-life details, such as the candle, the quill and the ink-stand are carefully and delicately rendered, in a manner that reflects the Leidse fijnschilders (Leiden 'fine-painters'). (Read more in National Gallery of Victoria).
About the Artist: Dutch Golden Age painter, printmaker and draughtsman Rembrandt was born on 15 July 1606 in Leiden, in the Dutch Republic, now the Netherlands. As a boy, he attended a Latin school. At the age of 13, he was enrolled at the University of Leiden, although according to a contemporary he had a greater inclination towards painting. In 1624 or 1625, Rembrandt opened a studio in Leiden, which he shared with friend and colleague Jan Lievens. In 1627, Rembrandt began to accept students, which included Gerrit Dou in 1628 and Isaac de Jouderville… Read more
---
Order a reproduction of this work (printed on canvas)
---