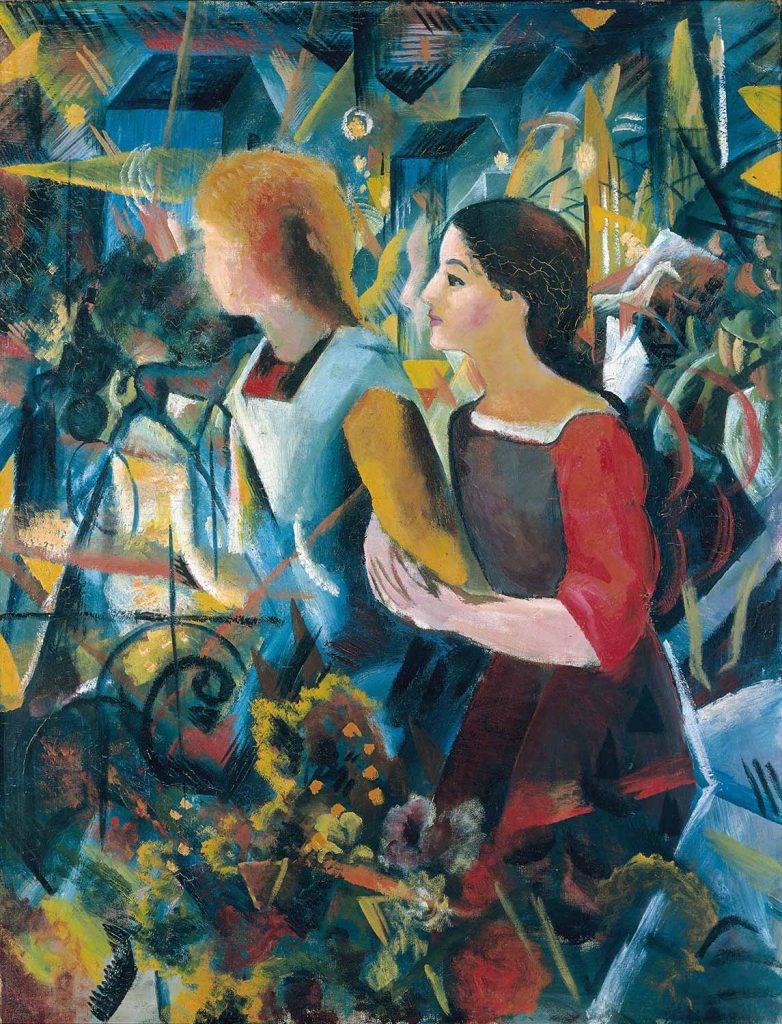 Two Girls by August Macke was created in 1913 and is in Stadelsches Kunstinstitut Frankfurt. The original size of the work is 130 x 100 cm and is made of oil on canvas.
Two girls in the evening hustle and bustle of a big city. Everything is in motion. Persons and objects dissolve into crystalline geometric forms. Figures appear double, coloured lines cut through the scene, cones of light glare between the buildings. Macke was impressed by the way the Italian Futurists had glorified speed and technology in their paintings. Yet he did not reduce his composition entirely to abstract forms. The girls contemplate the goings-on but do not merge with their surroundings… Read more in Stadelsches Kunstinstitut Frankfurt
The Artist: August Macke (1887 – 1914) was a German Expressionist painter. He was one of the leading members of the German Expressionist group Der Blaue Reiter (The Blue Rider). He lived during a particularly active time for German art: he saw the development of the main German Expressionist movements as well as the arrival of the successive avant-garde movements which were forming in the rest of Europe. As an artist of his time, Macke knew how to integrate into his painting the elements of the avant-garde which most interested him.
---
This painting is available for purchase as an art print on canvas from canvastar.com

---