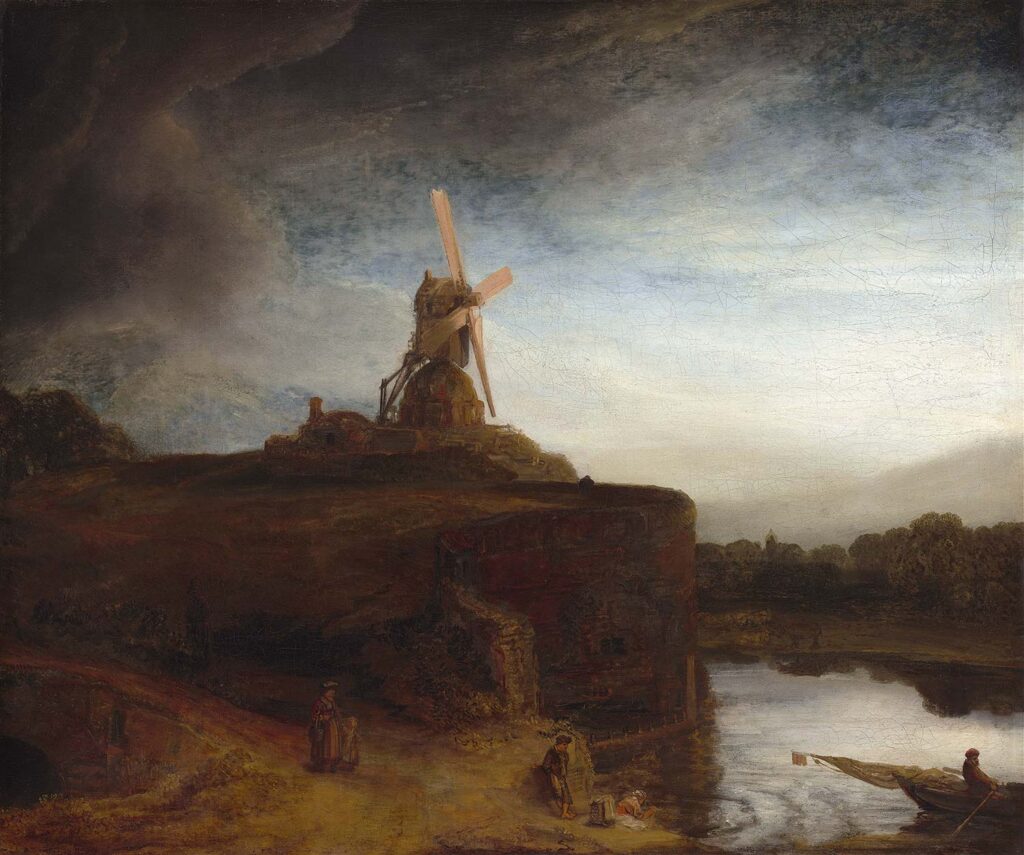 The Mill by Rembrandt van Rijn was created in 1645 – 1648. The painting is in National Gallery of Art Washington D.C. The size of the work is 87,6 x 105,6 cm and is made of oil on canvas.
A windmill stands on a promontory cutting into a waterway under a partially stormy sky in this square landcape painting. The promontory and mill are painted in muted tones of brown and rust orange, while steel-gray and white clouds encircle a topaz-blue sky above. The promontory juts into the scene from our left, and the front of the windmill is angled to our right so its golden-tan sails catch the light.
Silvery water winds around the base of the promontory and extends to a dark green, shadowy bank on the far side. A boat in the lower right corner of the composition is rowed by a man wearing a red jacket and cap. A path runs to the water's edge from the left edge of the painting, in front of the promontory's retaining wall, which is shored up with stones or panels. Read more in National Gallery of Art Washington D.C.
About the Artist: Dutch Golden Age painter, printmaker and draughtsman Rembrandt was born on 15 July 1606 in Leiden, in the Dutch Republic, now the Netherlands. As a boy, he attended a Latin school. At the age of 13, he was enrolled at the University of Leiden, although according to a contemporary he had a greater inclination towards painting. In 1624 or 1625, Rembrandt opened a studio in Leiden, which he shared with friend and colleague Jan Lievens. In 1627, Rembrandt began to accept students, which included Gerrit Dou in 1628 and Isaac de Jouderville… Read more
---
Order a reproduction of this work (printed on canvas)
---