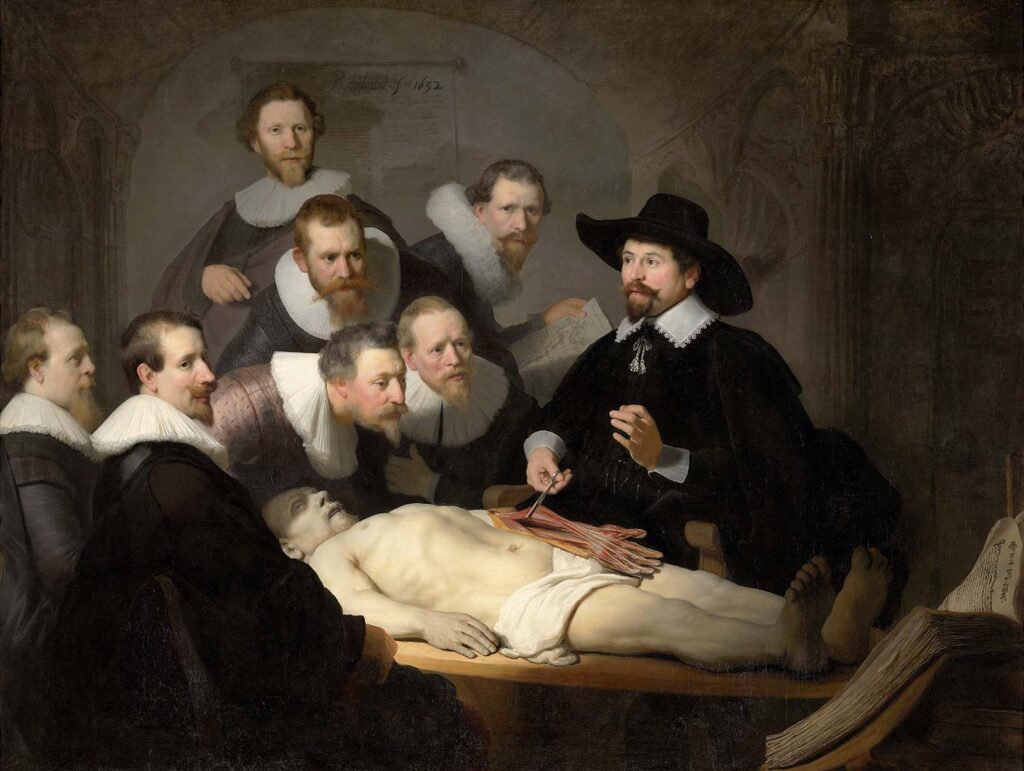 The Anatomy Lesson of Dr Nicolaes Tulp by Rembrandt was created in 1632. The painting is in Mauritshuis Den Haag. The size of the work is 169,5 x 216,5 cm and is made of oil on canvas.
The Anatomy Lesson of Dr Nicolaes Tulp is one of Rembrandt's most impressive group portraits. The painting was made in 1632, shortly after the artist's move from the town of Leiden to Amsterdam. The surgeons' prestigious commission provided a unique opportunity to become known among art-lovers' circles in Amsterdam, and the painter did not allow this chance to pass. The painting firmly established Rembrandt's name as a portraitist.
Anatomy demonstrations were held in Amsterdam from 1555 onwards. They were organised by the surgeons' guild and in Rembrandt's day they were held in an anatomy theatre in De Waag, Amsterdam's weighing house. The praelector or overseer of the guild would lecture, while the public – anatomy students and laypeople alike – could watch for a fee. Anatomy lessons might last for days: the abdominal cavity and the perishable bowels would be dissected first, followed by the head and limbs. To minimise the stench, the classes were taught in the cold winter months. (Read more in Mauritshuis Den Haag).
About the Artist: Dutch Golden Age painter, printmaker and draughtsman Rembrandt was born on 15 July 1606 in Leiden, in the Dutch Republic, now the Netherlands. As a boy, he attended a Latin school. At the age of 13, he was enrolled at the University of Leiden, although according to a contemporary he had a greater inclination towards painting. In 1624 or 1625, Rembrandt opened a studio in Leiden, which he shared with friend and colleague Jan Lievens. In 1627, Rembrandt began to accept students, which included Gerrit Dou in 1628 and Isaac de Jouderville… Read more
---
Order a reproduction of this work (printed on canvas)
---