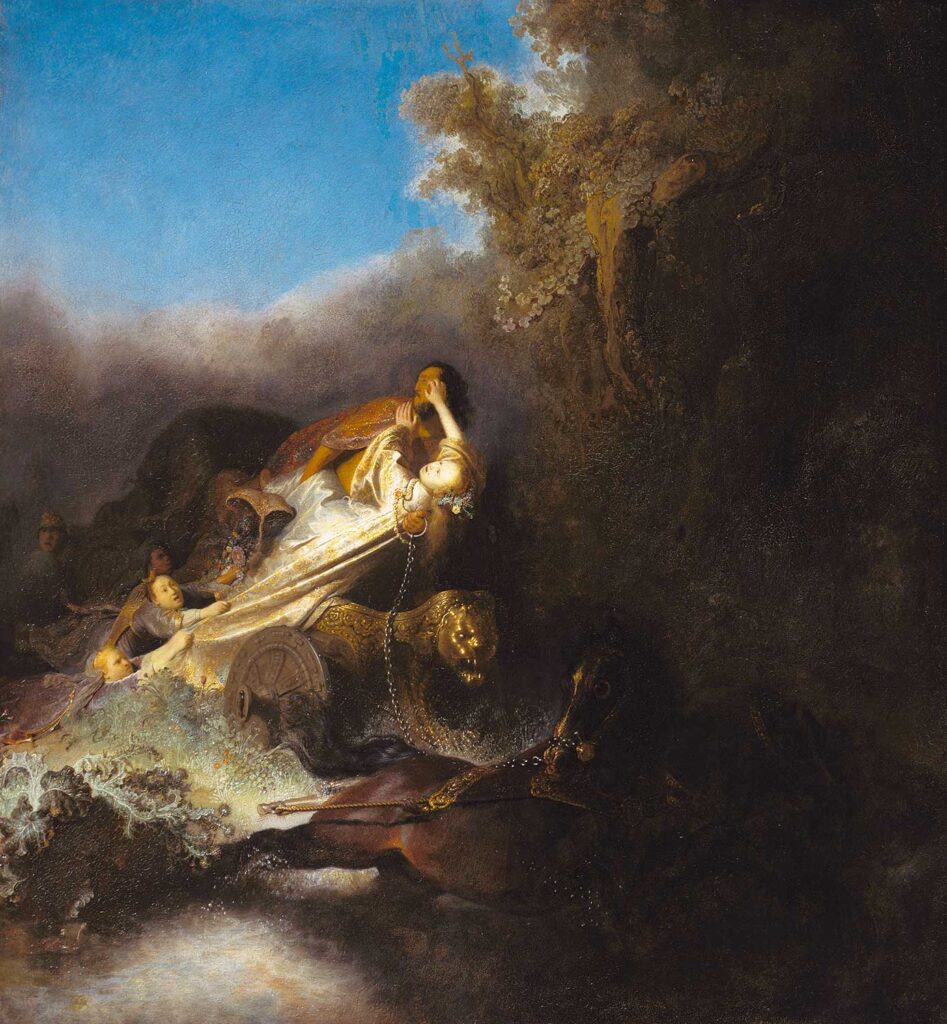 The Abduction of Proserpina by Rembrandt van Rijn was created in 1631. The painting is in Gemäldegalerie der Staatlichen Museen zu Berlin. The size of the work is 84,8 x 79,7 cm and is made of oil on wood.
At the end of the Leiden period and in the early years of his time in Amsterdam, the young, up-and-coming Rembrandt painted a number of historical paintings with biblical content as well as a number of mythological themes, including "The Rape of Proserpina". By choosing a small-figure depiction, he was able to do justice to the complex events of the subject.
According to the tale of Ovid's Metamorphoses, Pluto, ruler of the underworld, struck by Cupid's arrows falls in love with Proserpina, daughter of Ceres. When he sees her playing with her companions and picking flowers, he burns with desire for her. He grabs her and kidnaps her on his chariot into the dark realm of the underworld. Proserpina's mother Ceres then searches in vain for her missing daughter, until she can persuade Jupiter to allow Proserpina to stay with her on earth for eight months of the year and in the underworld near Pluto for four months of the year. Read more in Gemäldegalerie der Staatlichen Museen zu Berlin(de).
About the Artist: Dutch Golden Age painter, printmaker and draughtsman Rembrandt was born on 15 July 1606 in Leiden, in the Dutch Republic, now the Netherlands. As a boy, he attended a Latin school. At the age of 13, he was enrolled at the University of Leiden, although according to a contemporary he had a greater inclination towards painting. In 1624 or 1625, Rembrandt opened a studio in Leiden, which he shared with friend and colleague Jan Lievens. In 1627, Rembrandt began to accept students, which included Gerrit Dou in 1628 and Isaac de Jouderville… Read more
---
Order a reproduction of this work (printed on canvas)
---