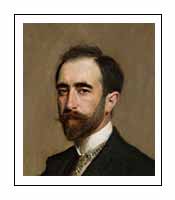 Teodor Axentowicz (1859 – 1938)
Polish-Armenian painter Teodor Axentowicz was born in Braşov. Between 1879 and 1882 he studied at the Academy of Fine Arts in Munich. From there he moved to Paris, where he was a student of Carolus-Duran and continued his education until 1895. In 1894 he started collaboration with Wojciech Kossak and Jan Styka during the preparation of the Racławice Panorama.
The following year he moved to Kraków, where he became a professor at the local Academy of Fine Arts. He was also active in the local society and cooperated with various societies devoted to propagation of arts and crafts. Between 1890 and 1899 he went on a series of artistic trips to London and Rome.
In 1910 he became the rector of the Academy and since 1928 was also an honorary member of the Zachęta Society. He died on 26 August 1938 in Kraków.
Axentowicz's work developed in two ways: the artist gained recognition as a portraitist and as a painter of genre scenes. His genre art has its origins in the period of his studies in Munich, when Axentowicz painted episodes from rural life in a realistic convention. The artist would later retrace these themes many times using oils, pastels and watercolours.
---
---
References;
---