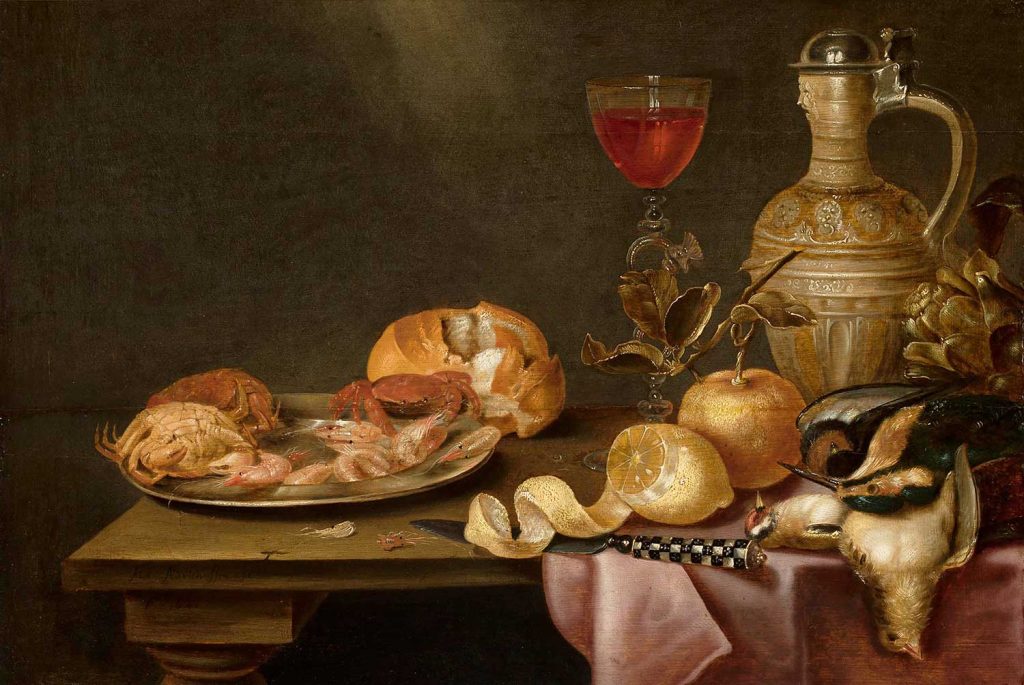 Still Life with Shrimps and Crabs on a Tin Plate by Alexander Adriaenssen was created in 1641. The painting is in National Museum Warsaw. The size of the work is 41,5 x 58 cm and is made of oil on canvas.
A pewter plate with crabs and shrimps, an orange with a branch and leaves, a lemon partially peeled and opened, a knife with an inlaid handle, four dead birds (partridge, kingfisher, goldfinch and swallow?), an artichoke flower, a Westerwald ceramic jug with a lid and filled with wine a glass on a high, decorative stem of the "façon de Venise" type, shown on a table top partially covered with a napkin. Read more in National Museum Warsaw.
The Artist: Flaman baroque painter Alexander Adriaenssen was born in Antwerp (1587). Alexander was registered as the pupil of Artus van Laeck in 1597. In 1610 he became a master of the Guild of St. Luke of Antwerp. As he had trained particularly in the art of painting coats of arms on parchment, he was registered as a water colour painter. He soon became skilled in painting with oil and specialized in still life.
---
This painting is available for purchase as an art print on canvas from canvastar.com

---