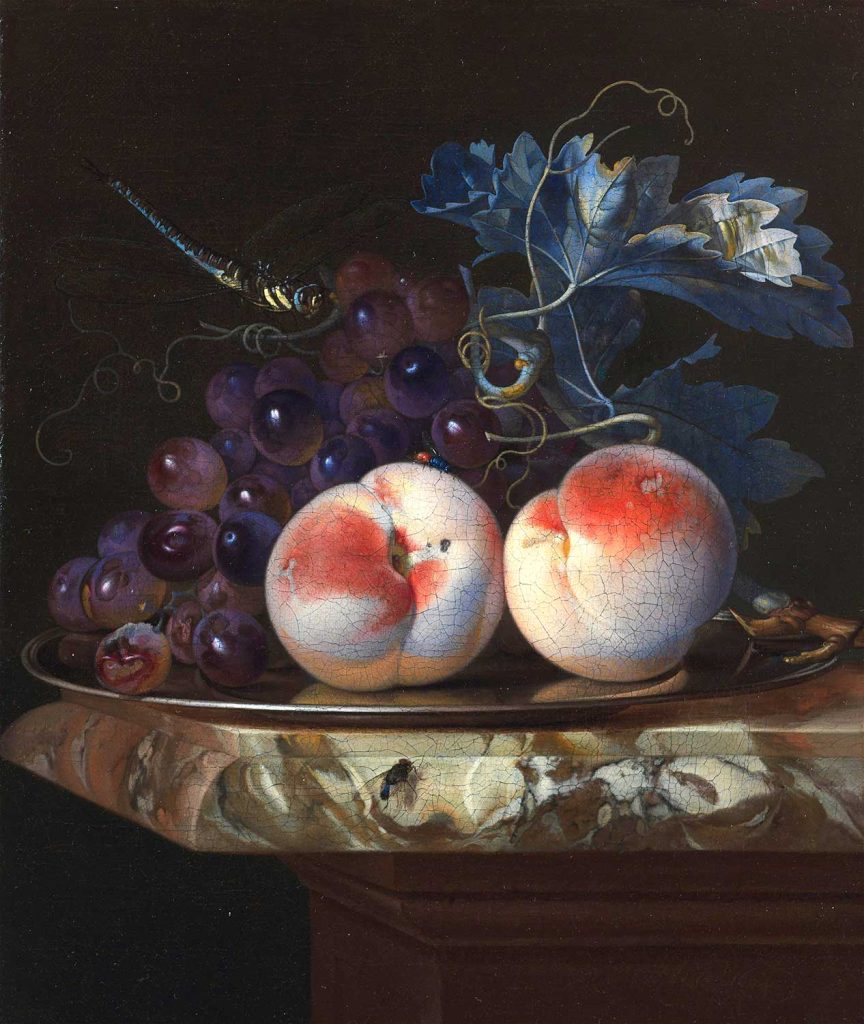 Still Life with Peaches and Grapes by Willem van Aelst was created in 1664. The painting is in Private Collection. The size of the work is 32,3 x 27,5 cm and is made of oil on canvas.
The Artist: Dutch baroque painter Willem van Aelst was born in Delft (1627). He was a pupil of his uncle, Evert van Aelst (1602–1657), a still-life painter in Delft. Willem joined the town's Saint Luke's Guild on 1643. Little is known about his personal life, but we know that he lived in France between 1645/1646 and 1651, and subsequently in Italy until 1656. While in Florence, Van Aelst worked for the Medici family, specifically the brothers Cardinal Gian Carlo and Cardinal Leopoldo de' Medici.
Van Aelst created at least eleven paintings for them, as well as works for collectors in Bologna and Rome. Ferdinand II de' Medici, the Grand Duke of Tuscany, supposedly gave Van Aelst a gold medal and gold chain for his service. Van Aelst settled in Amsterdam in 165, becoming famous for his ornate still lifes. The fine glassware, silver goblets, fruit, and flowers display the influence of Willem Kalf's luxurious compositions. Van Aelst was one of the earliest Dutch artists to paint an asymmetrically arranged bouquet… Read more.
---
This painting is available for purchase as an art print on canvas from canvastar.com

---