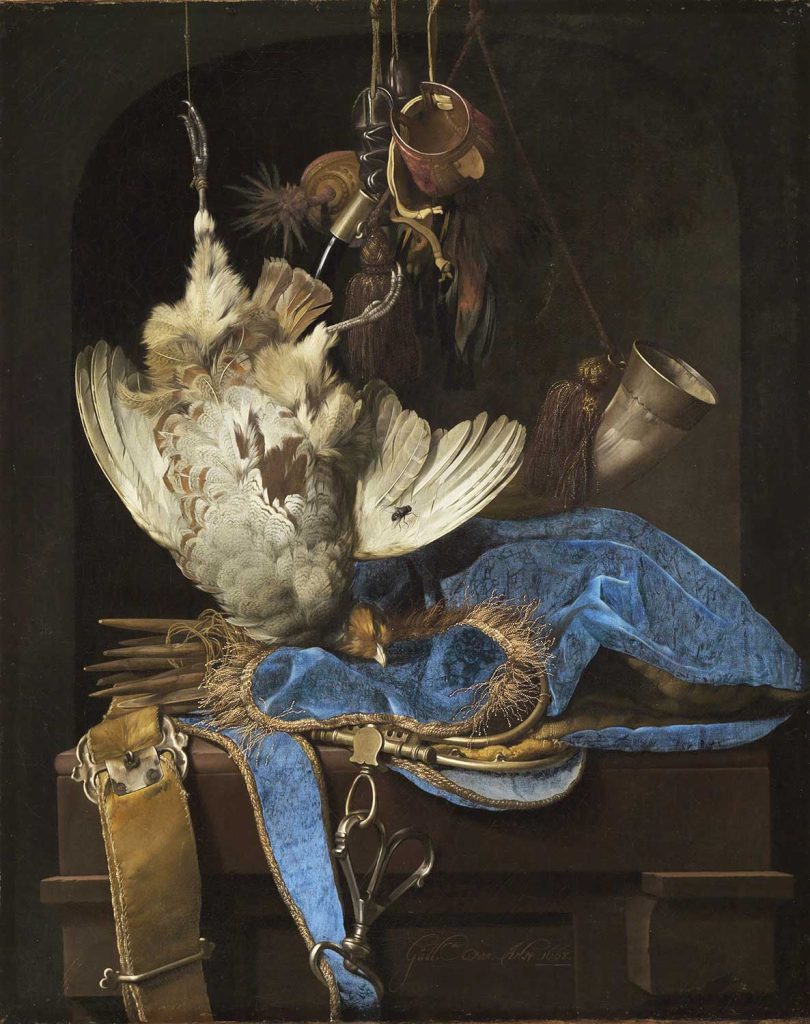 Still Life with Hunting Equipment and Dead Birds by Willem van Aelst was created in 1668 and the painting is in Staatliche Kunsthalle, Karlsruhe. The work is made of oil on canvas.
His "Still Life with Hunting Gear and Dead Birds" is a highly artificial arrangement of prey and hunting gear, not the memory of a specific hunting experience. The emphatically aesthetic and bloodless arrangement testifies to aristocratic status awareness.
A partridge, two dead songbirds in the background and various hunting implements are hanging on strings in front of a dark stone niche and are partly resting on a stone shelf. A velvet hunting bag painted in precious lapis lazuli blue hints at the courtly context of the painting… Read more in Staatliche Kunsthalle Karlsruhe (in Deutsch)
The Artist: Dutch baroque painter Willem van Aelst was born in Delft (1627). He was a pupil of his uncle, Evert van Aelst (1602–1657), a still-life painter in Delft. Willem joined the town's Saint Luke's Guild on 1643. Little is known about his personal life, but we know that he lived in France between 1645/1646 and 1651, and subsequently in Italy until 1656. While in Florence, Van Aelst worked for the Medici family, specifically the brothers Cardinal Gian Carlo and Cardinal Leopoldo de' Medici.
---
This painting is available for purchase as an art print on canvas from canvastar.com

---