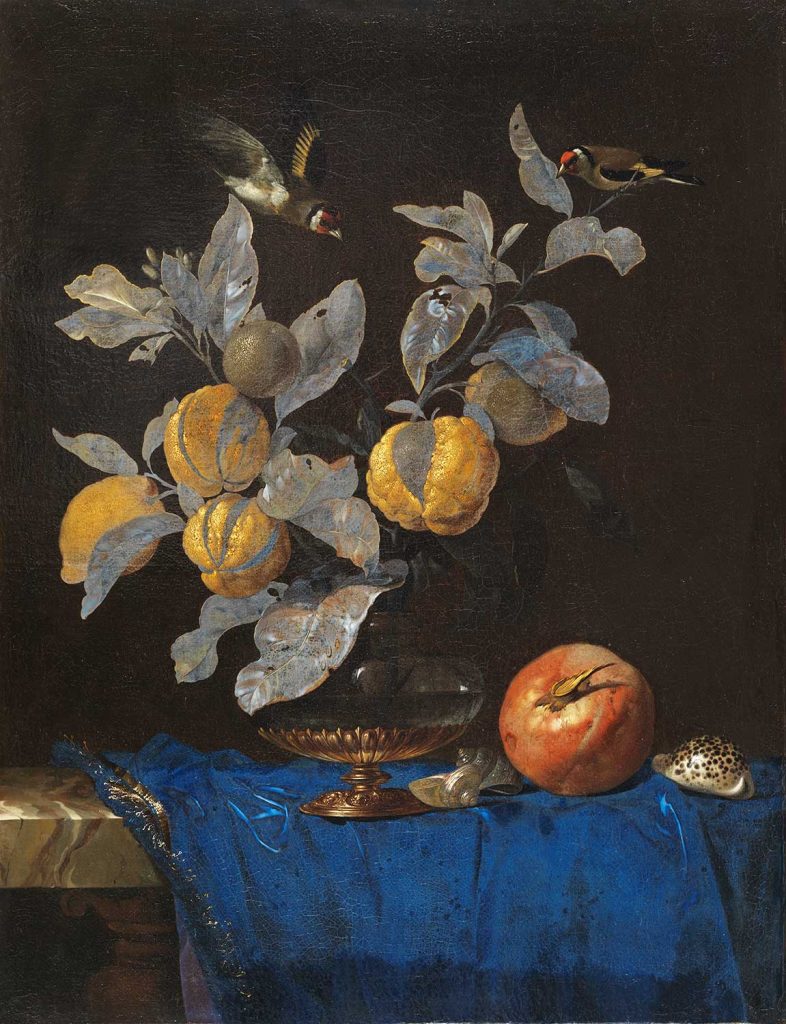 Still Life with Fruit by Willem van Aelst was created in 1664 and the painting is in Thyssen Bornemisza Museum, Madrid. The size of the work is 67,3 x 52,1 cm and is made of oil on canvas.
In the present work, whose paint surface has been affected by an old restoration, Van Aelst used a habitual composition within his oeuvre but with some variations. He depicts a veined, grey and brown marble tabletop of which only one, turned leg is visible on the left. On top of the table is a costly cloth, which may be silk to judge from the type of folds, on which the artist has located the vase at the very edge of the table. The blue of the cloth is a colour frequently used by Van Aelst, as is the background against which the fruit and branches are outlined, illuminated by a cool light… Read more in Thyssen Bornemisza Museum
The Artist: Dutch baroque painter Willem van Aelst was born in Delft (1627). He was a pupil of his uncle, Evert van Aelst (1602–1657), a still-life painter in Delft. Willem joined the town's Saint Luke's Guild on 1643. Little is known about his personal life, but we know that he lived in France between 1645/1646 and 1651, and subsequently in Italy until 1656. While in Florence, Van Aelst worked for the Medici family, specifically the brothers Cardinal Gian Carlo and Cardinal Leopoldo de' Medici.
---
This painting is available for purchase as an art print on canvas from canvastar.com