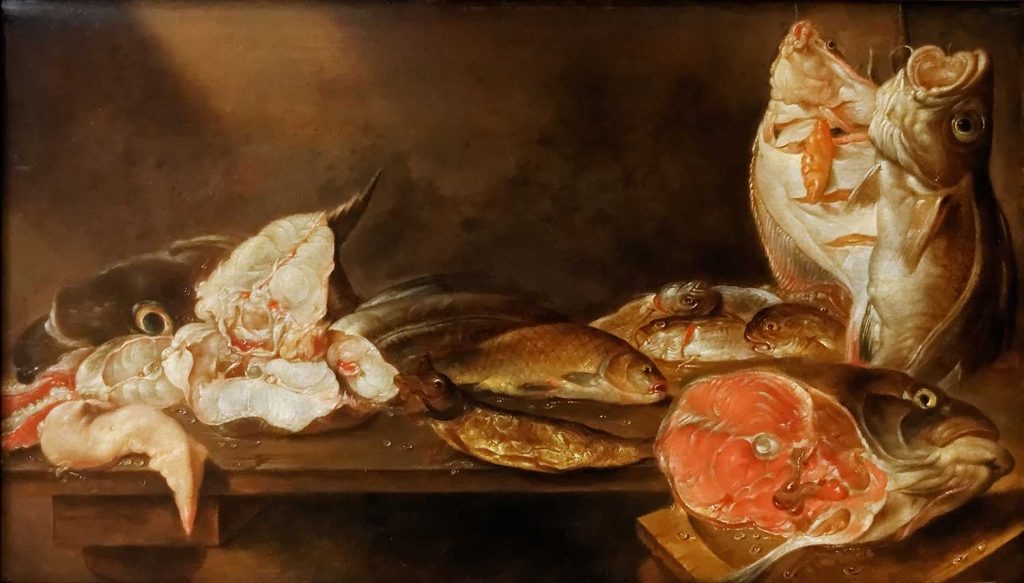 Still Life with Fish by Alexander Adriaenssen was created in 1640. The painting is in Museum of Fine Arts, Budapest. The size of the work is 44,5 x 79 cm and is made oil on oak.
Deriving from kitchen and market scenes, fish pieces are reminders of the perishable nature of the goods from this world. In early ensembles, fish pieces represent the element Water. Dead animals displayed in such paintings as well as those in game pieces are associated with death. Read more in Museum of Fine Arts, Budapest.
The: Artist: Flaman baroque painter Alexander Adriaenssen was born in Antwerp (1587). Alexander was registered as the pupil of Artus van Laeck in 1597. In 1610 he became a master of the Guild of St. Luke of Antwerp. As he had trained particularly in the art of painting coats of arms on parchment, he was registered as a water colour painter. He soon became skilled in painting with oil and specialized in still life. He was able to build his reputation with these works. Rubens was an admirer and bought two of Adriaenssen's works for his collection. Anthony van Dyck also appreciated the artist's output and painted his portrait, which was engraved by Antony van der Does. Read more.
---
This painting is available for purchase as an art print on canvas from canvastar.com

---