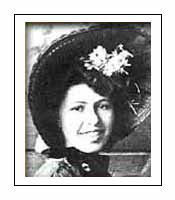 Sophie Taeuber-Arp (1889 – 1943)
Swiss artist, painter, sculptor, textile designer Sophie Taeuber-Arp was born in Davos. She studied textile design at the trade school in St. Gallen. She then moved on to the workshop of Wilhelm von Debschitz in Munich. From 1916 to 1929, Taeuber was an instructor at Zürich Kunstgewerbeschule in Switzerland, teaching embroidery and design classes.
Her textile and graphic works from around 1916 through the 1920s are among the earliest Constructivist works. These sophisticated geometric abstractions reflect a subtle understanding of the interplay between colour and form. During this period, she was involved in the Zürich Dada movement. As both a dancer and painter, Taeuber was able to incorporate Dada in her movement for dancing and was described as obscure and awkward.
Taeuber-Arp was also close friends and contemporaries with the artist, Tristan Tzara, one of the central figures of the Dada movement. Tzara planned to use the contributed text and images to create an anthology of Dada work entitled Dadaglobe. From the late 1920s, she lived mainly in Paris and continued experimenting with design. In the 1930s, she was a member of the group Cercle et Carré.
Later in the decade she founded a Constructivist review, Plastique (Plastic) in Paris. She was also a member of Allianz, a union of Swiss painters, from 1937 to 1943. In early 1943, Taeuber-Arp missed the last tram home one night and slept in a snow-covered summer house. She died there of accidental carbon monoxide poisoning caused by an incorrectly operated stove at the house of Max Bill.
---
---
References;