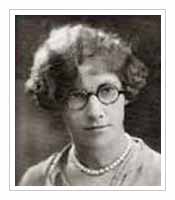 Sophie Gengembre Anderson (1823 – 1903)
French painter Sophie Gengembre Anderson was born in Paris in 1823. Being the daughter of a Parisian architect, the artist began to work with portraits from early ages alongside Baron von Steuben. When the revolt of 1848 erupted, he went to America with his family and settled in Cincinnati. In 1854 he married British artist Walter Anderson and went to England. A year later he exhibited his paintings at the Royal Academy.
In his paintings, Anderson expertly reflected the texture of fabrics on the canvas and reached a high painting technique. In 1852, some of his paintings were used as a book picture in an important study called Historical Collections of the Great West. In 1860 he went to Pennsylvania with his wife. He exhibited at the National Academy. While working for Louis Prang, he made famous charts called 'Pratting Primrose' and 'Dotty Dimple'.
Back to England
In 1871, the Andersons moved back to England and shifted to the Isle of Capri due to various health reasons. They resided in the Villa de Castello for 16 years, but while in Capri, Sophie sent her pieces of work to London to be displayed at the exhibitions. The Andersons then permanently moved back to Falmouth, Cornwall in England in 1894. Sophie's early work concentrated on botanical and Pre-Raphaelite genres. Also, her paintings "No Walk Today", "Tying the Shoelace", "Windfalls", and "Ladybird Ladybird" featured a child, which many thought was her daughter.
Her paintings also had a photographic quality due to the fine attention she gave to the details. Sophie was one of the few artists who made a successful living out of her work. A fine depiction of fabrics and drapes with the use of light was also an important element of her paintings. Christmas was also one of the main themes of her paintings. Her painting "Here Comes the Gobbler" revolved around that theme. Anderson was also fascinated by fairies and her work "Take the Fair Face of Woman" portrayed a beautiful golden haired fairy with butterflies.
---
---
---